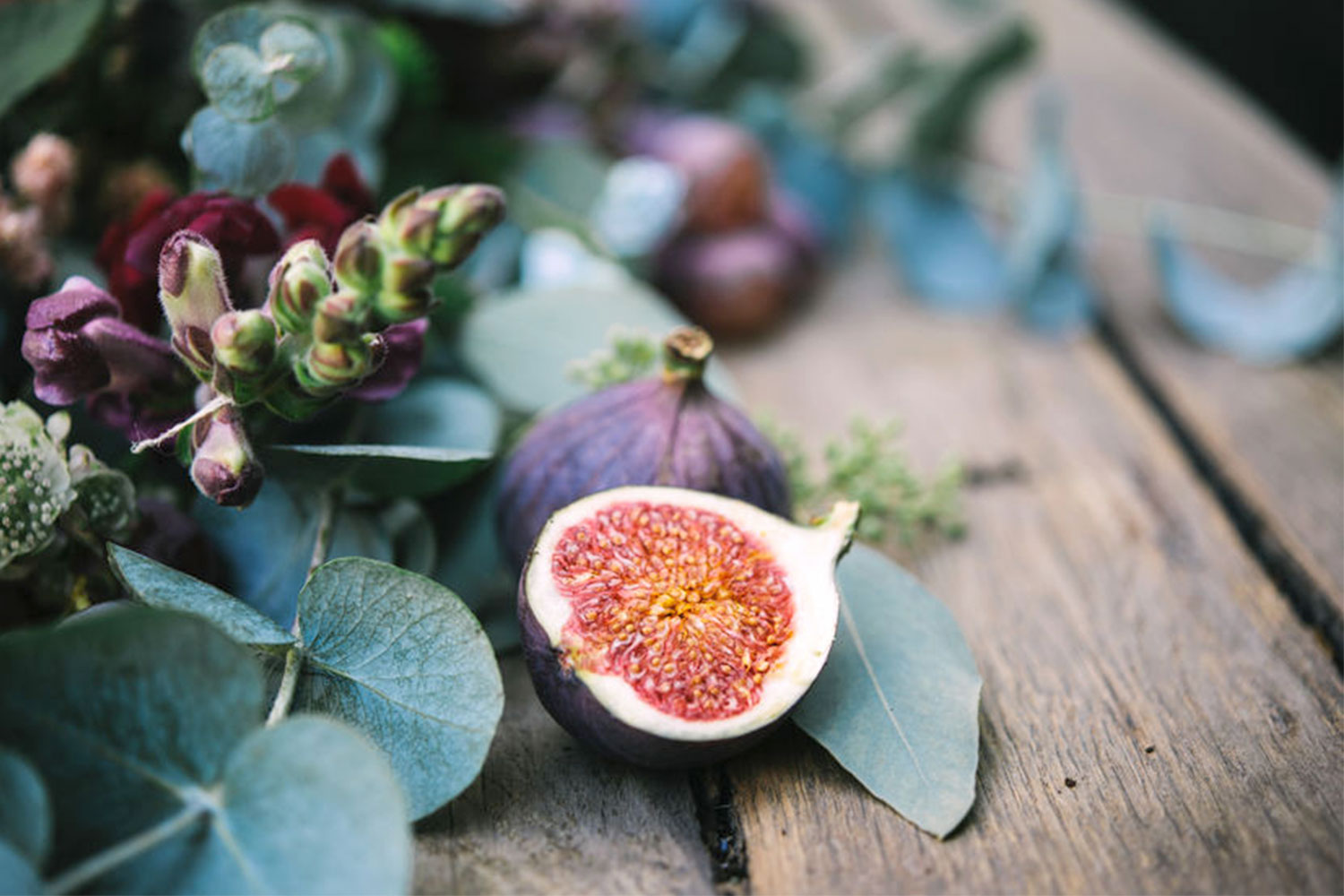 04 Sep

How to use Italian Fruit in Weddings

Take a peek at how to use Italian fruit in weddings, courtesy of our guest blogger Maddy from Proflowers – a lass who manages to make wedding bouquets and centerpieces look like a garden of earthly delights to behold and to eat!
Adding An Italian Touch to Your Wedding Day
Many choose a destination wedding in Italy for the country's natural beauty and gorgeous Mediterranean climate. With a wedding somewhere as beautiful as Cinque Terre, it would be a mistake to not include the local beauty into your ceremony. There are many ways to do this, be it in your food, entertainment, or decor.
Designing your wedding decor is a great opportunity to take advantage of all that Italy has to offer. With hundreds of plant and fruit species only found in the Mediterranean, your options are limitless. When working with your wedding planner and florist, consider including some of the local flower and fruit species available in Cinque Terre.
Tips for Using Fruit in Weddings with Floral Arrangements
Using fruit (and vegetables) in bouquets requires some pre-planning and decision-making prior to arranging. Check out some of our Pro Tips for using produce in floral arrangements so you can start off on the right foot!
If you're using fruit in a handheld bouquet, like a bridal bouquet, make sure you secure the fruit before you begin to walk around with it.
Try to pick fruits that still have a stem so you can use floral wire or floral tape to secure it to the stems in your bouquet.
Larger fruits, like pomegranates, sit better towards the center of your bouquet where they're less likely to tip over and fall out.
The best way to keep your arrangement together is to keep your bouquet upright!
If you are using fruit in a bridal bouquet, we do not recommend using it for your bouquet toss (unless you have full confidence that someone will catch it and it won't land on the floor)! Use an alternative toss-bouquet instead to save your beautiful fruit bouquet from any potential damage.
Fruits that grow on vines, like grapes and blackberries, easily add depth to any spot in your arrangement. The vines also make it easier to tie to your bouquet. The abundance of fruit can also add easy height or width to your bouquet depending on your placement.
Keep in mind that fruits produce ethylene gas. This gas speeds up the ripening process for other produce and can accelerate the blooming process for flowers, so take this into account when incorporating fruit into your arrangements and bouquets.
Now that you have a few tips and tricks up your sleeve, you can take a look at different bouquets to get an idea about what you'd like to create!
Floral Fruit Arrangement Inspiration
Photo courtesy of Bowtie & Bell
Kumquats
This autumn-inspired bouquet incorporates warm colors and tiny fruit to create a showstopping arrangement. The orange and red kumquats complement the rich colors of the flowers while adding a cheery feel to the overall display.
Kumquat – These rounded are the perfect choice if you're looking for smaller fruit accents instead of a large statement piece. The fruit casually hang down and out of the way of their floral neighbors.
Rose – The light pink roses help round out the rich color palette for this bouquet and set the mood for this fall-themed arrangement.
Dahlia – Full-bodied dahlias add texture to this highly contrasting arrangement. These big blooms accompany the roses as beautiful statement flowers.
Photo courtesy of Esther Sun Photography
Brunia Berries
Brunia berries are an easy way to pull a bouquet together without adding too much texture or weight to your arrangement. This bouquet thoughtfully places the smooth berries amongst the posh flowers and other protruding greenery for a delicate contrast. The light orange roses tie the arrangement together with their beautiful petals and soft color.
Brunia Berries – These decorative berries are popular choices for winter bouquets and arrangements. Silver brunia are especially known for their soft color and effortless beauty.
Anemone – The anemone flowers gently poke out of this bouquet to complement the beautiful roses and protruding foliage. Their distinguishable dark centers and soft petals make these eye-catching flowers popular choices for wedding bouquets.
Rose – These light orange roses add the right touch of elegance to this lush bouquet. The big blooms of the roses protrude in the right spots to contrast the wild greenery in the bouquet.
Blueberries
Berries, succulents and voluminous blooms create a gorgeous arrangement with subtle touches of color. The tiny berries contrast the big florals and vibrant greenery in the bouquet to give a balanced and graceful look.
Blueberry – Tiny blueberries add a whimsical touch to any floral bouquet. Keep these berries on the branch to easily place in any part of the arrangement.
Succulent – Light-colored succulents are another unique greenery choice that instantly elevates your bouquets look and adds unique texture to the overall arrangement.
Dahlia – The single white dahlia in this bouquet catches the eye and delicately contrasts the overall blue color palette in this arrangement. This white flower draws the eye and creates a beautiful center point for this bouquet.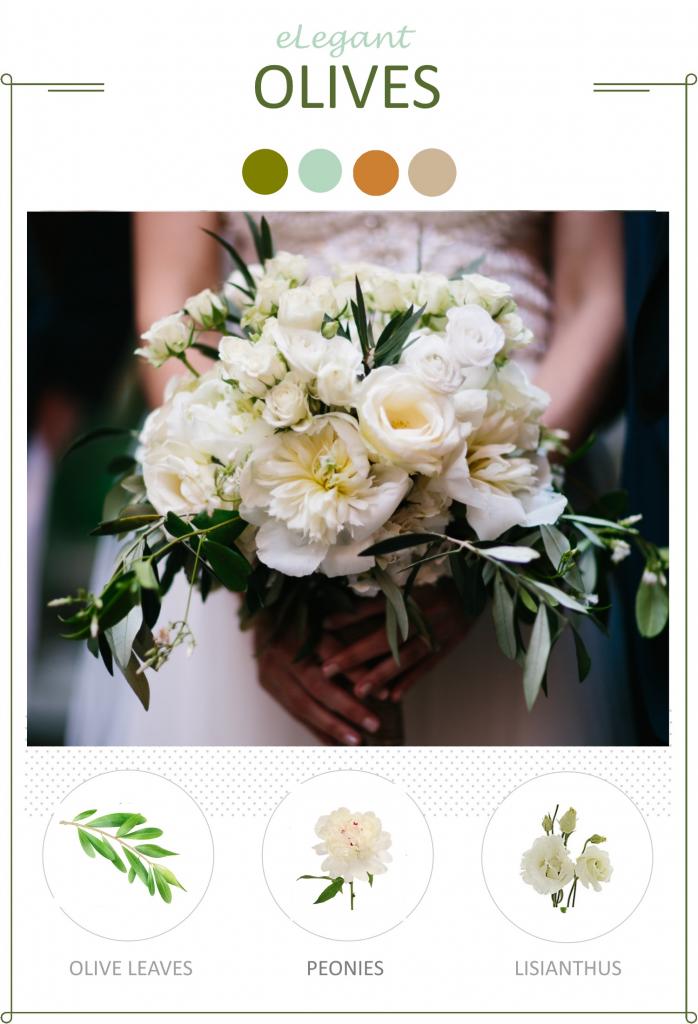 Bouquet photo courtesy of Julian Kanz from Wylie and David's wedding.
Olives
Olive trees are ubiquitous Mediterranean landscape and their branches have long been an global symbol of peace. However, their long, narrow leaves dotted in green or purple fruit can make a great addition to floral arrangements. Olive branches can be used as filler to add a subtle Mediterranean feel to your bouquet, or they can act as star of the show. Their long, willowy branches tend to create dramatic and creative shapes. Consider using flowering branches among other local blooms to add a nuanced texture to the bouquet.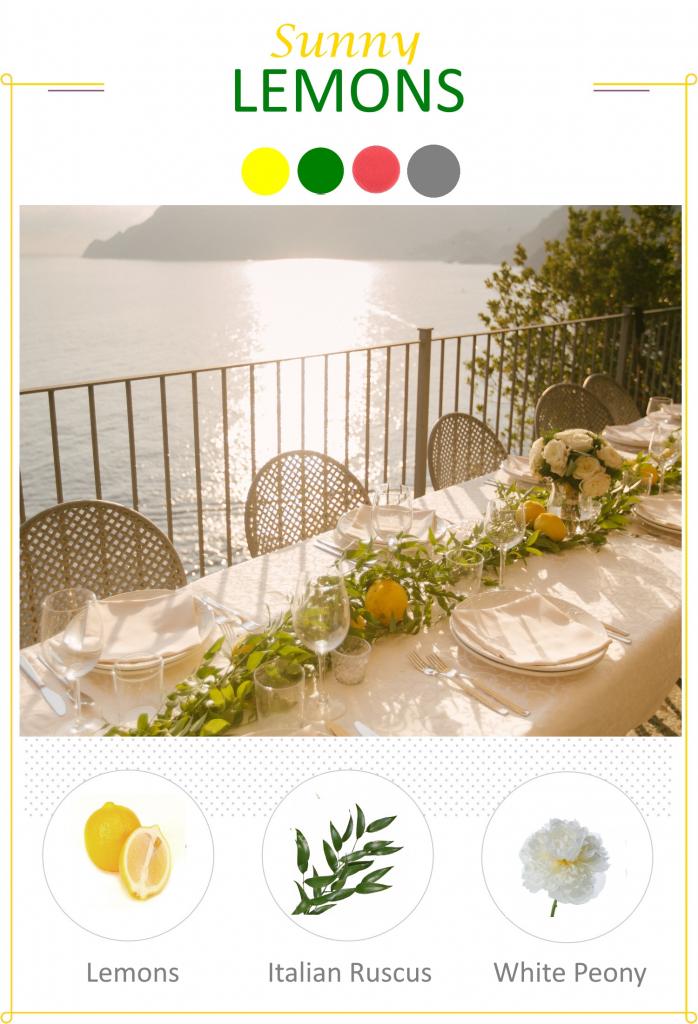 Table photo courtesy of Facibeni from Andrea and Drew's wedding.
Lemons
Lemons are a staple of Italian culture and cuisine and can be found as the key flavor in shaved ice, limoncello, lemonade, and gelato. They can also make welcome guests in any brightly colored floral arrangement.
Lemons look best among bright green, white, or blue arrangements. Sliced or whole, they serve as an excellent surprise to guests! Many florists also enjoy the look of filling up a clear glass vase with sliced lemons. The best part about using lemons in floral arrangements is that they are very acidic and will not brown leading up to your big day.

Table centerpiece photo courtesy of Ed Peers from Dominique and Rick's wedding.
Grapes
Another local fruit perfect for wedding bouquets are grapes. Italy's Mediterranean climate is home to hundreds of sprawling vineyards that you can take advantage of. Grapes are best included in floral arrangement near the bottom, cascading over the edge of the vase.
The most popular type of grape planted in Italy are sangiovese grapes, used to make red wines. If you catch them before being sent to fermentation, their dusky violet berries will provide a brilliant burst of color in your wedding bouquets. For weddings with a muted color scheme, white grapes are an excellent addition. Place some Cinque Terre grapes: the bosco, alberola or vermentino grapes, among white hydrangeas and soft green foliage for an elegant, traditional arrangement. Or contrast with some colour pop to add some rustic fun into your day.
Fruit and flowers also add a warm and elegant aspect to any gift. In addition to the examples here, you can also take ideas from old still life paintings that feature fruit and floral centerpieces. You can easily turn a regular bouquet at your dinner table into a living work of art with the right ingredients! Take your newfound fruit and floral inspiration to the next level by gifting perfectly paired berries and flowers to the favorite people in your life!
Written by guest Maddy for Cinque Terre Wedding. Maddy is nature lover who also enjoys discovering new music, exploring local restaurants, and petting every cat she sees.