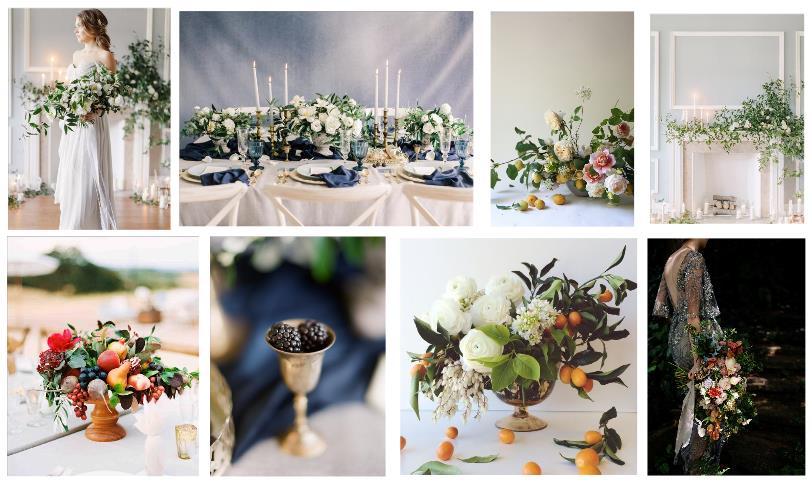 10 Jul

5 European Influences on Modern Day Wedding Flower Design – Renaissance

From the 1300s to the start of the 1900s – fashion and style trend setters from Europe inspired wedding flower design across the globe. That's 500 years of trend setting  fabulousness!

Today, 5 European historical eras: Renaissance, Baroque, Rococo, Georgian and Victorian continue to play a major role in influencing trends in styling flowers for the modern wedding.

So we've created a five part series of Wedding Flower Inspiration Boards on these super eras and five more Wedding Flower Inspiration Boards with our modern day take on them, so you can fuse the past with the future in your destination wedding design.

So let's dive back into the past, so we can jetset into the future to discover wedding floral designs that will inspire forever.

Renaissance: The Renaissance era spans the longest of the five periods from the 1300s – 1700s. While in English we use the french word "Renaissance" we really should be using the Italian word "Rinascimento", afterall Italy is where it all began! Meaning "rebirth", this period saw a return to the teachings of art, architecture, literature, science and philosophy from Ancient Greece and Rome and a new spin on these learnings. So there is a great fusion between ancient history and the modern age in this period. It was also a period which saw people break away from the social and cultural moulds of society and create new and inventive ideas that had ripple effects across the globe.

To take you back, think of the Italians Botticelli and his Primavera and Caravaggio and his Basket of Fruit. If you are lucky like us, and live in the Cinque Terre, you can pop down the road to Florence and see Botticelli and Caravaggio's work in the flesh – face-splitting smile across our dials. With the Italians ruling this period we can't help but love it ourselves and are constantly looking to this period for inspiration in our wedding flower designs for destination weddings here in the Cinque Terre.

But if you are a bit further north there's also Renaissance inspiration around you. How about the Dutch, Bosschaert and his Flowers in a Window, the Flemish, Brueghel and his Bouquet, ow, or of course, the English, William Shakespeare and his Romeo and Juliette. Other giants of this period include the English, Queen Elizabeth, the Spanish, Queen Isabella and back here in Italy, Catherine de Medici.

This was a time of wedding flowers like lotus, jasmine, iris, tulip, rose, hyacinth and lilac along with foilage, fruit and vegetables often used for decoration in urns, vases, compotes and woven baskets.

Renaissance Inspiration Board for Wedding Flower Design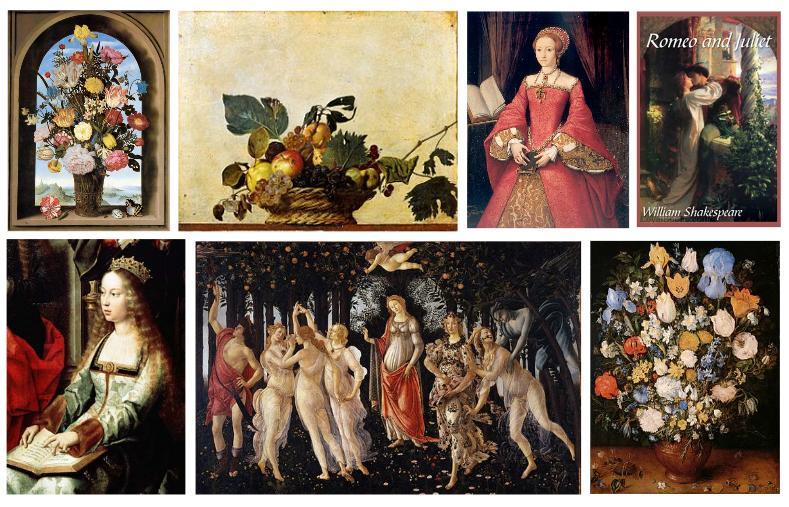 Photo credits (clockwise): Ambrosius Bosschaert Flowers in a Window / Caravaggio Basket of Fruit / Queen Elizabeth / Romeo and Juliet Book Cover / Queen Isabella di Castiglia / Botticelli Prima Vera photo by Cinque Terre Wedding / Jan Brueghel Bouquet
Modern Renaissance Inspiration Board for Wedding Flower Design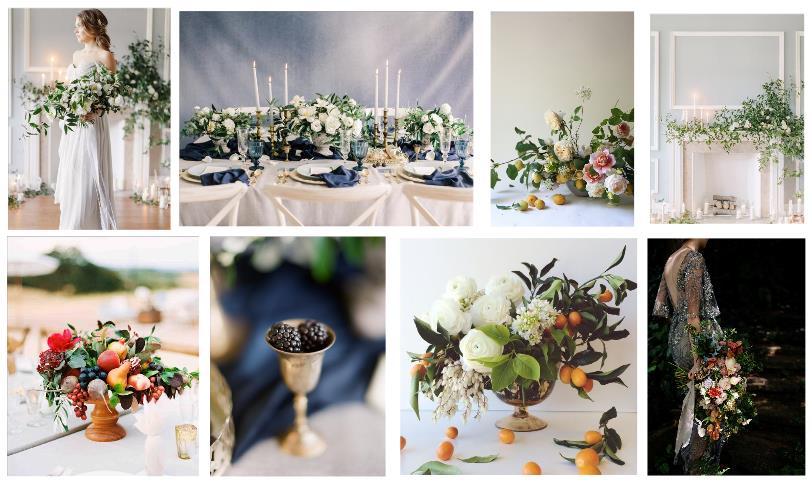 Photo credits (clockwise): Style Me Pretty Bouquet / Style Me Pretty Table Centerpiece /  Pinterest Centerpiece / Style Me Pretty Fireplace / Martha Stewart Floral and Fruit Centerpiece / Style Me Pretty Berries in Minature Goblet / Pinterets Floral and Fruit Centerpiece / Oncewed.com bouquet
To start planning your Renaissance inspired destination wedding in the Cinque Terre Italy contact us here.
If your style is more Baroque, enjoy our modern day take on a Baroque wedding in part 2 of the series here.
Or if your ideal wedding style is full of pastel prettiness, perhaps the Rococo era is more your style. Find out more about this era is part 3 of the seriers here.
Written by Melina Nicholson