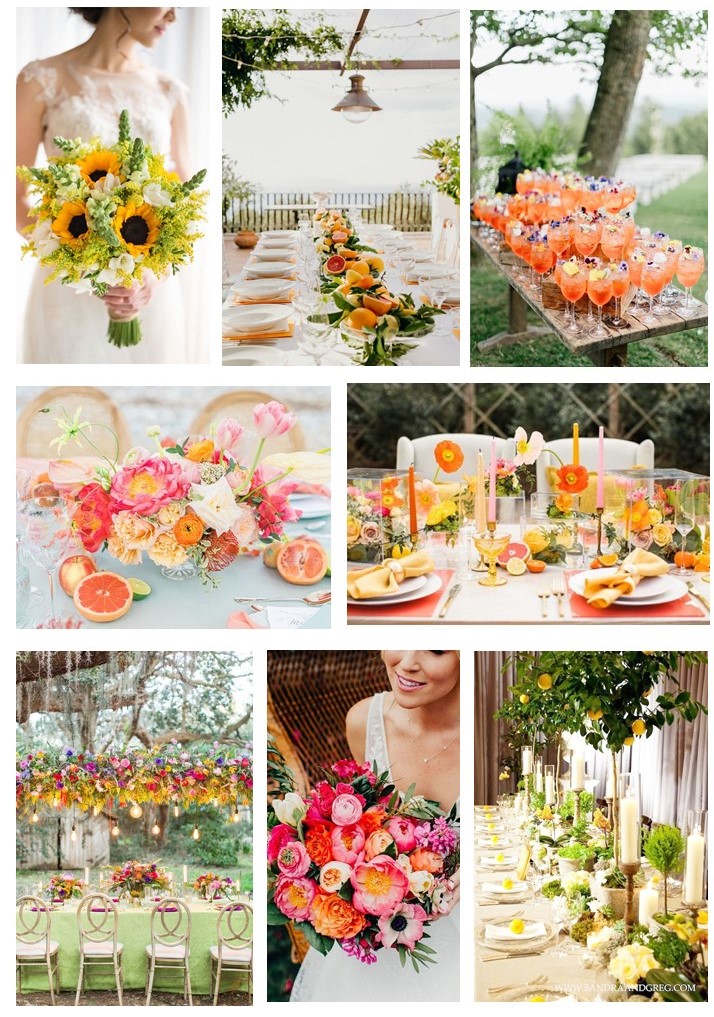 07 Jul

A 2020 summer wedding mood board for all styles

In the summertime when the weather is fine… we've got weddings, we've got weddings on our minds. So to mark the start of summer, unlike any other, Cinque Terre wedding Stylist, Sarah Pozzi, has created a delightful mood board for three different styles to quench our thirst for summer wedding loveliness this year. And see if you can spot those gorgeous floral compositions by our favourite flower power gal, Simona, at Fior Deco. Ow, this is bliss!
Classic Blue Mood Board
So to start with, Sarah turned to her friend Mr Pantone, who always sets the colour palate for the year and for 2020 the Pantone Colour is Classic Blue. Well, if any colour title suits the style of a destination wedding here in the Cinque Terre it is Classic Blue. Classic Italian Riviera style on the Blue Mediterranean Sea. Oooo, doesn't get much better than this.
Confession: I have a blue crush. A very similar colour palette, Midnight Blue, was the colour palette of our wedding back in 2010, see this article on our wedding published in Cosmopolitan Bride for a peek. What can I say, in 2010 I was ahead of my time, or rather I just love blue so much that whenever Mr Pantone announces a blue colour of the year, I'm instantly on-trend. But enough reminiscing about yesteryear, in the inspiration board below you, can see how Stylist Sarah hoverboards this classic colour into the crisp pretty present. Pairing free-spirited bouquets with classic accents of deep blue, metallics and fresh clean white. The Cinque Terre's signature rustic look underlining all.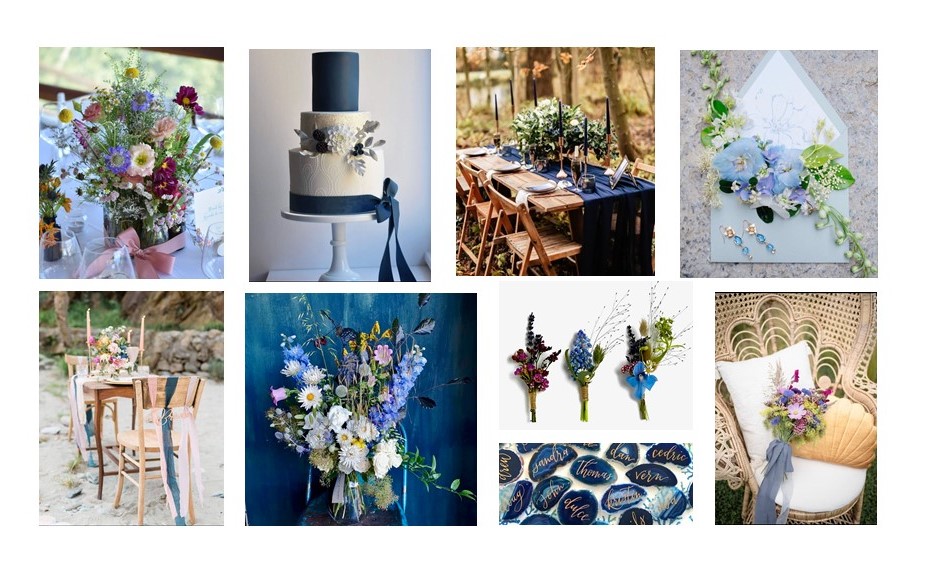 Photo credits (clockwise):   fior_deco bouquet  / Instagram wedding cake / Whimsical Wonderland Weddings table set  / Wedding Wonderland stationery / fior_deco bouquet  /  Grace & Thorn boutonnieres  /Mariage.com place cards / Grace & Thorn bouquet / Wedding Wonderland table set
Tutti i Frutti Mood Board
Well, we are all fruity here in the Cinque Terre, seriously: oranges, grapes, figs, olives, apricots, peaches, cherries, loquats and the most beloved of them all: the lemon. To give you an idea, outdoors you'll find lemons hanging out on pretty much every corner, over every wall and from every balcony in the village, just lazing around in all their golden yellow glory. Then once indoors, the lemon adoration continues on every table with our Limoncino, Sorbetto Limone, Crema di Limoncino, Lemon Marmalade, Lemon cake and Acciughe Limone… we are unofficially the mecca for all lemon worshipers. Why, just like all the Saints, we even have an annual date to celebrate the Lemon at the Festa di Limone. On most years, aside from this strange one, the Festa di Limone takes place on the last Saturday of May.
So what better way to bring the spirit of the Cinque Terre into your wedding décor than by welcoming the citrusy fruits themselves onto your table. The result: an explosion of fiery colours and playful compositions that don't just look deliciously sweet, they are deliciously sweet. So feast your eyes on these incredible edible table settings below and if you're thinking ow, two for one: free fruit salad for dessert included in a table setting, you're right on our wavelength. Wink wink!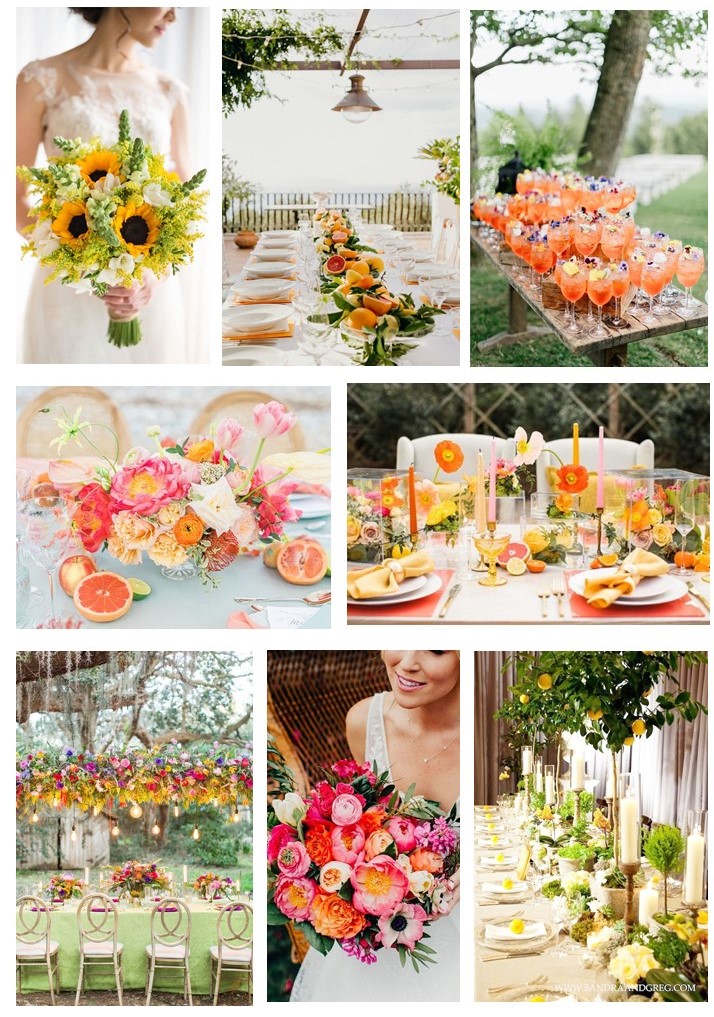 Photo Credits:  Pinterest bouquet / Pinterest table set / Style Me Pretty decor / Pinterest centerpiece / Style Me Pretty table set / Pinterest decor / Pinterest bouquet / Pinterest table set
Freedom Pass Mood Board
Hoo boy, if like us by now you're tired of being cooped up, locked down and distanced from, we gift you the idea of a Freedom Pass in the mood board of wedding delights below. Think of all the colours in the rainbow, times them by ten, then times them by ten again and your starting to visualise the brilliant colour palette below. Then forget physical restraint and your four walls and stretch out your arms out as far as they'll go to scoop up every bloom type you can think of. And don't worry about staying in the lines of the design, no one-metre rule here folks, as you pull together your bouquet of wildflowers let your buds press up close together any way they like. Now, also forget matching tableware, that's for those who are housebound three meals a day – instead imagine running through your best home-ware stores, not online, but actually in the store, and picking out one favourite tabletop item from each, no one item the same, all exquisitely different – just because you can!
Now if you've followed our train of creative thought then you've probably styled a wedding similar to the one styled by stylist Sarah below. And if you haven't, better still, that's the beauty of the Freedom Pass, go ahead create the wedding of your dreams with no limits.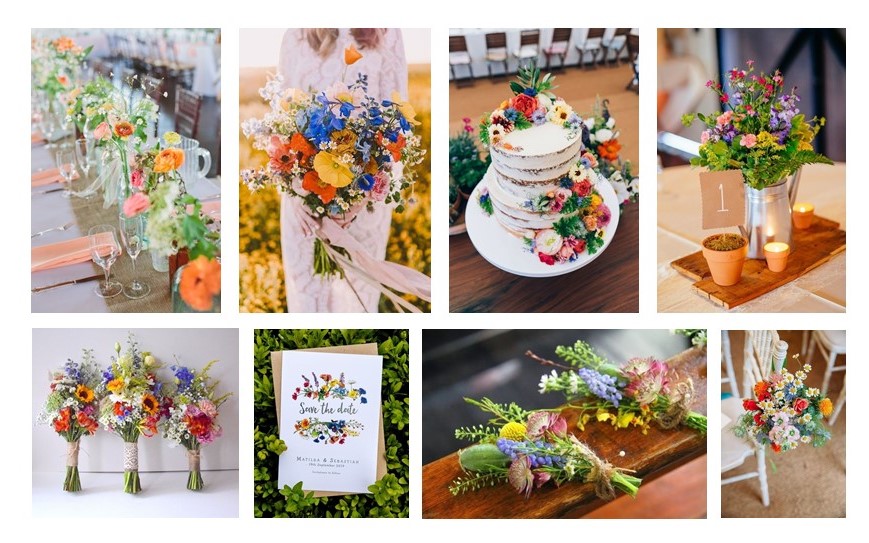 Photo Credits:  Style Me Pretty table set / Pinterest bouquet / Rock My Wedding cake  / Love and Lavender centerpiece / Pinterest bouquets / Etsy stationery / Pinterest boutonniere / Pinterest chair decor
If you would like a wedding in the Cinque Terre planned and styled by Cinque Terre Wedding contact us here.
Mood board by Cinque Terre Wedding Stylist Sarah Pozzi.
Written by Melina Nicholson.