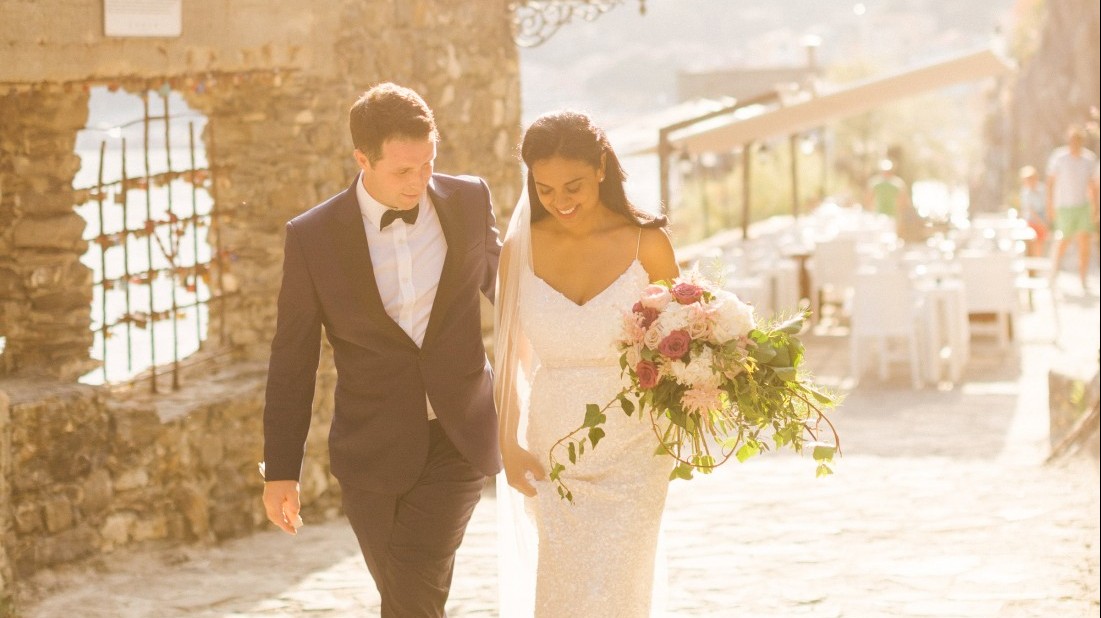 16 Nov

Vintage Garden Glamour – Real Wedding Feature

Who walks into the Cinque Terre and dreams of a real wedding here? Oh, everyone. But only few actually dream so big their dreams become reality. Razia and Noel did just that.

English beauty Razia and dashing Irish lad Noel share a love story that started with a sliding doors moment. Literally. They both exited a lift on the same level at work in London when cupid's arrow hit. The lift closed its doors behind them and continued its journey and so did Razia and Noel.

It was a love story that took them all the way to the Cinque Terre for holidays, and so began their dreams of a real wedding here. For this beautiful, warm-hearted couple, it was a trip back to Italy, to Romeo and Juliette's home town of Verona, no less, that sealed their dreams. In a hotel fittingly named, Giulietta e Romeo, Noel got down on one knee and, with a self designed emerald ring, proposed.

Living out the pages of a romance novel, Razia and Noel's story became even more dreamy when the most adorable baby girl, Paloma, with big eyes that just make your heart melt, entered the pages of their lives. So it was two events for this special couple in the Cinque Terre: their daughter's first birthday party followed by their wedding day, officially uniting husband, wife and family.

If Razia and Noel's love story has you sighing and feeling romantic like us, delight your eyes with their real wedding photos below – vintage garden glamour at its best. And hear how it was to plan a destination wedding abroad while juggling jobs and a newborn baby – easy-peasy!

Why a destination wedding?
Both of us have always wanted to get married abroad and as a couple we always wanted to get married in Italy, but we thought it would be too expensive and started looking at venues in London, but they just didn't excite us.

We love to travel and have been to Italy many times and love the food, culture and lifestyle. We got engaged in Verona so getting married in Italy just seemed like the obvious thing to do.

Why the Cinque Terre in Italy?
We visited Cinque Terre on holiday before we were even engaged, and stumbled upon Buranco and fell in love with the place. We said then that it would be the perfect place for a wedding. It was just meant to be. The setting is so breathtakingly beautiful that it blew all of the venues we had been looking at in London, out of the water.

How was the planning process?
We wouldn't have been able to do it without Melina who was wonderful. She did absolutely everything for us and delivered our vision with ease. There were a lot of emails to and fro and Pinterest was a Godsend, because we simply shared pictures of what we wanted. Melina handled all of the paperwork and formalities so we could focus on the exciting bits like food and decoration. It really was as easy as that.

Best part of your day?
We enjoyed every minute of the day. It was amazing seeing it all come together.

The ceremony was beautiful and in a stunning setting overlooking the sea and mountains, we enjoyed the walk into town where the locals and tourists congratulated us, the aperitivo was some of the most amazing food we have ever eaten, the dinner on the lawn was like a movie setting, and our first dance with our daughter was so special.

It's difficult to pick the best part because the entire day was just so amazing.

Top Tip for future Cinque Terre Wedding Brides and Grooms?
Firstly, just relax. We wish we had relaxed more and enjoyed the run up to the big day.

For the bride I would suggest wearing flat shoes and a dress that is not likely to catch on the stones as you walk into town. My dress was so delicate with beading and a train that caught on the rocks and didn't fare well throughout the evening. Also, I would definitely suggest booking one of the wedding hairdressers, because the weather will wreak havoc with your hair!

Written by Melina Nicholson

Photos by Facibeni Fotografia.