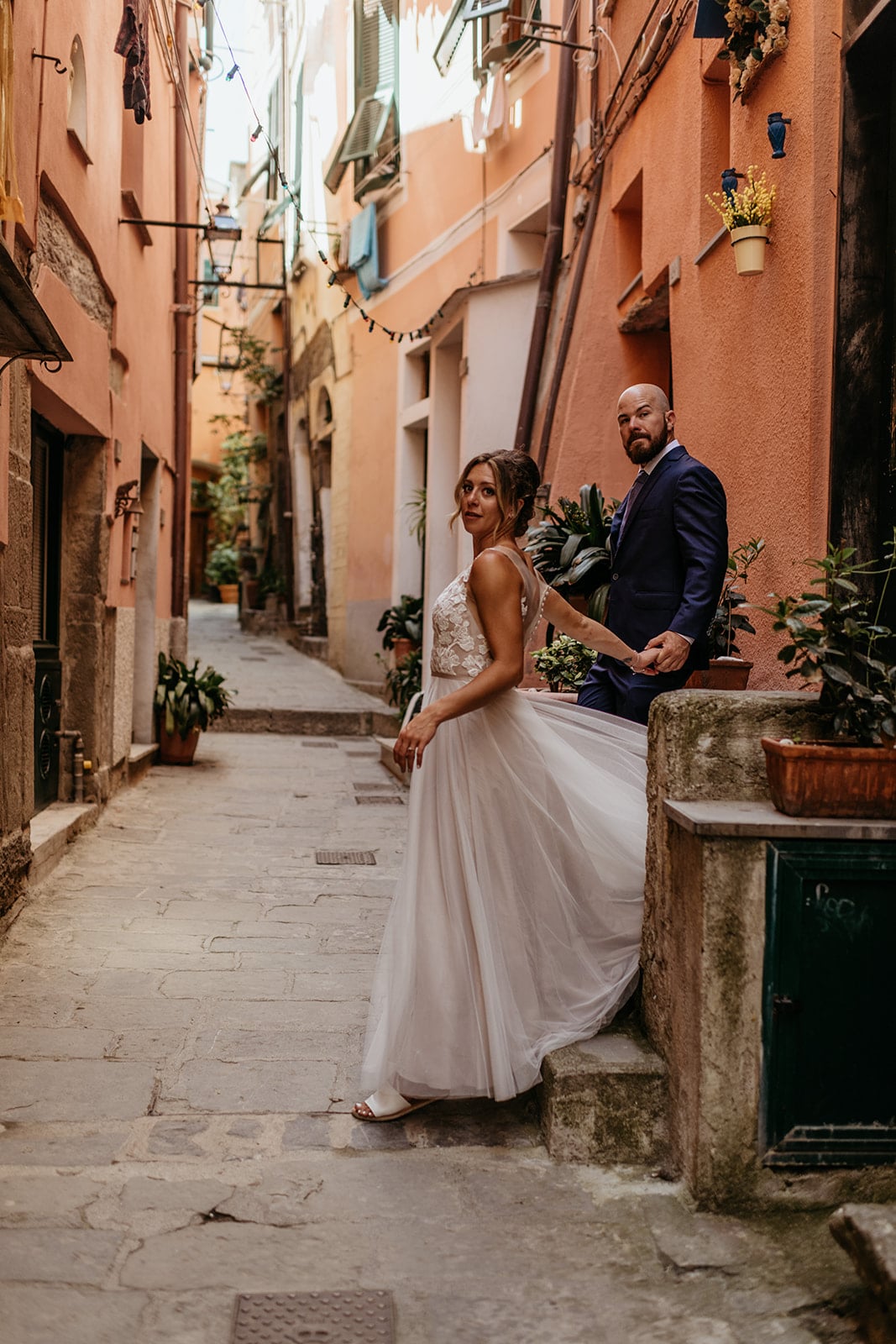 19 Feb

Relaxed Romance Wedding in the Cinque Terre

Not every wedding day "to do list" starts with a swim in the sea, but for Jessica and Justin's relaxed romance wedding, that's exactly how their day began. And it was a swim in the Mediterranean Sea on the Italian Riviera, no less!

Following the swim it was hair, makeup, then a stroll down the medieval alleyways to their ceremony venue – the terrace of a medieval Castle that dates back over 1,000 years. Their view? 35 loved ones and the infinite sparkling Mediterranean Sea. After the vows the couple celebrated with prosecco, appetisers and good Italian food and wine at dinner in the Castle's Restaurant, before cake and dancing under the stars.

We wonder if Jessica and Justin ever dreamed of such a wedding day when years ago they found each other on match.com? For Senior Engineer, Justin, and Wellness Center Manager, Jessica, who both share a love of exploring the world and the simple things in life, like family, friends and nature, perhaps a destination wedding in the Cinque Terre was always their destiny?

And the sign that sealed their fate? Roma! Not the name of Italy's capital city but in their case, the name of one of their dogs. You see, after asking Jessica's father for permission, Justin surprised Jessica, while on a hike with their dogs. Halfway along the trail Justin suggested they stop at a bench to give the dogs some water and asked Jessica to check Roma's new collar as something seemed amiss. But on closer inspection, Jessica found all was exactly as it should be: attached to the collar was a sparkling engagement ring and when she turned back around, Justin was down on one knee!

And how glad we are that their dog's name was not Paris, Barcelona or Athens! Instead bella Roma it was and therefore bella Italia it was!

When Jessica and Justin first contacted us at Cinque Terre Wedding, they knew they didn't want a big wedding, didn't want to spend a fortune, and truly wanted the day to represent them, their passions, and love.

It was hard not to fall under the love spell of Jessica and Justin, so in love with travelling, their families, life and each other. The style for this wedding reflected the location of Vernazza, Cinque Terre, and the couple's personalities: natural beauty, relaxed romance and no fuss. This can be seen through the rustic romance theme of the flowers by Fior Dèco and decor which included carefree soft toned wildflowers and eucalyptus – true romance at its best.

But don't just take our word for it, enjoy Jessica and Justin's love and wedding story below where they share, 5 tips and 5 and a bit pics captured by destination wedding photographer star, Laurken Kendall.
Why a destination wedding in Italy?
Justin and I both have a deep love of traveling and exploring the world. When we got engaged, we wanted this experience to truly represent us, our passions, and our love. We knew we didn't want a big wedding, we didn't want to spend a fortune, and we truly wanted the day to be about us and what we wanted. We traveled to Italy in 2016 and fell in love with the people, culture, food, and wine!
Why the Cinque Terre in Italy?
We had visited the area in 2016 and found it to be so incredibly magical – it's still so authentic and untouched. We both knew that we wanted to share our love for the area with those that we loved most. Once we heard of the incredible venues that the region had to offer for a wedding, we were sold. How many people get to say they were married at a castle on the Mediterranean Sea? (at least those of us in America 🙂 )
How was the wedding planning process?
Amazing! Melina had everything under control and prompted us on decisions that needed to be made. I truly went into the wedding not worried about all the details – I just knew that we were in the most beautiful place getting married and that truly is all that mattered.
Best part of your day?
So hard to choose! Probably the ceremony. It was beautiful, simple, romantic, and everything we ever pictured.
Top Tip for future Cinque Terre Wedding Brides and Grooms?
Be present in every moment of the day, as it goes by so incredibly fast. Don't worry about the details, Melina and her crew have it covered and they'll tell you where you need to be and take care of the rest.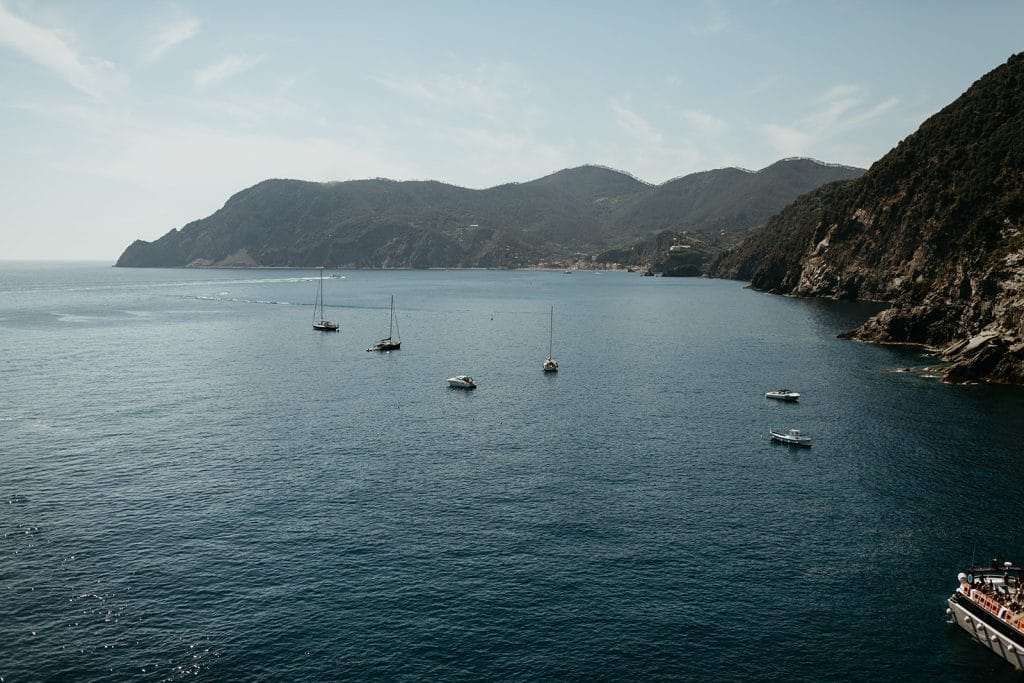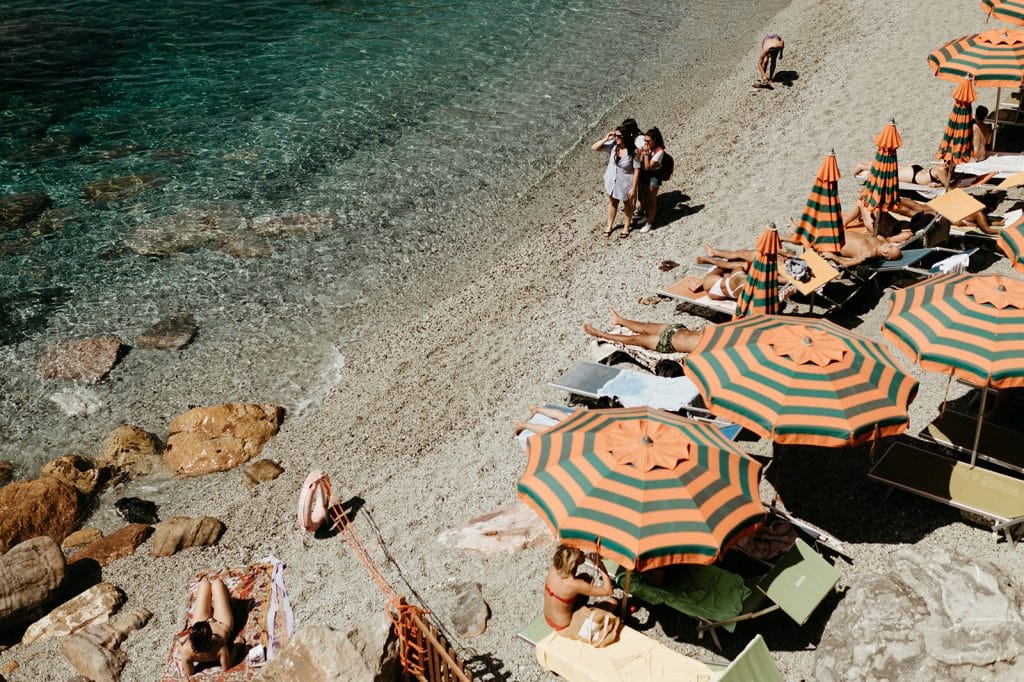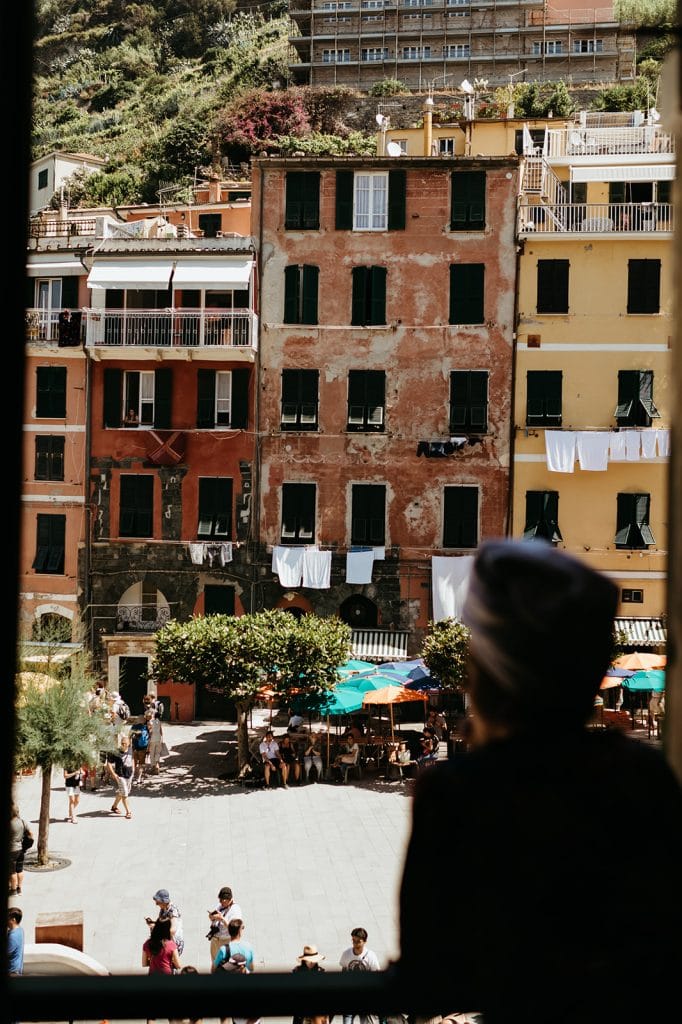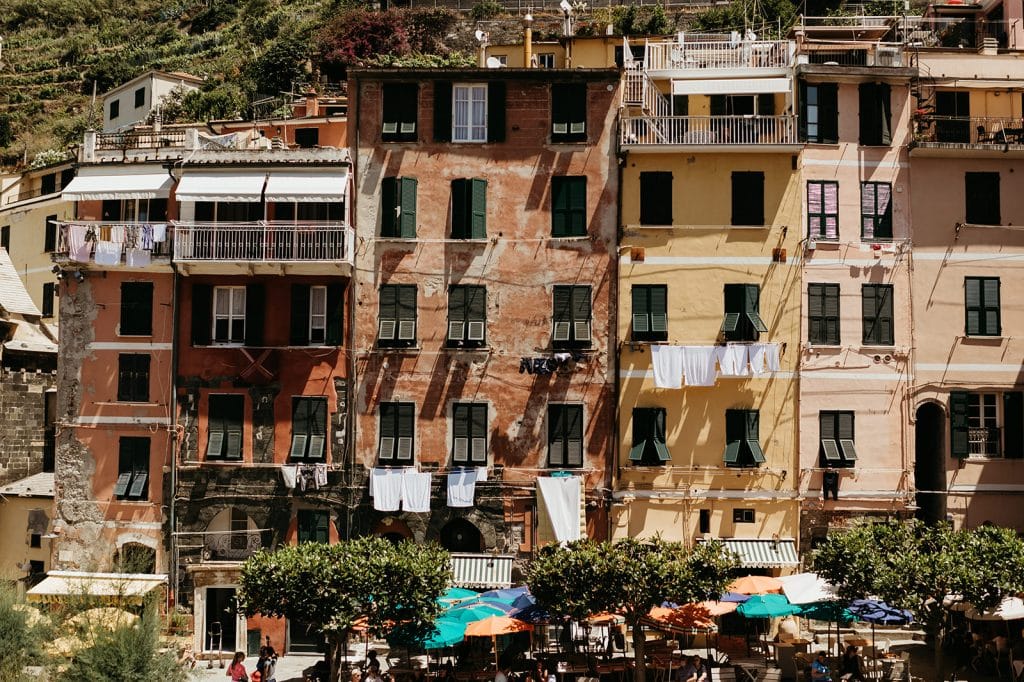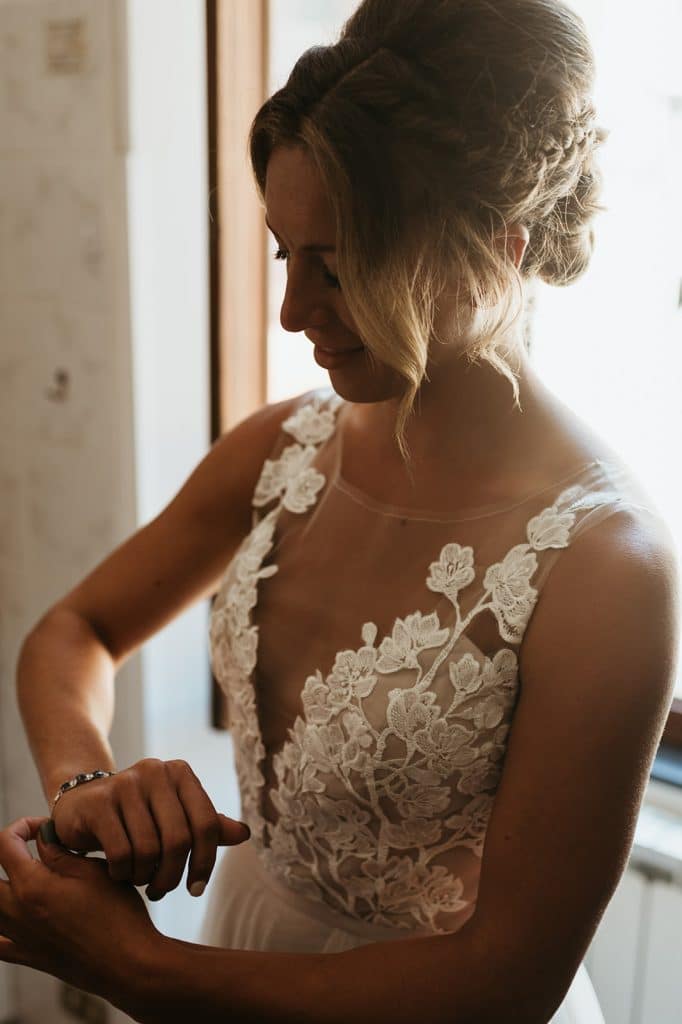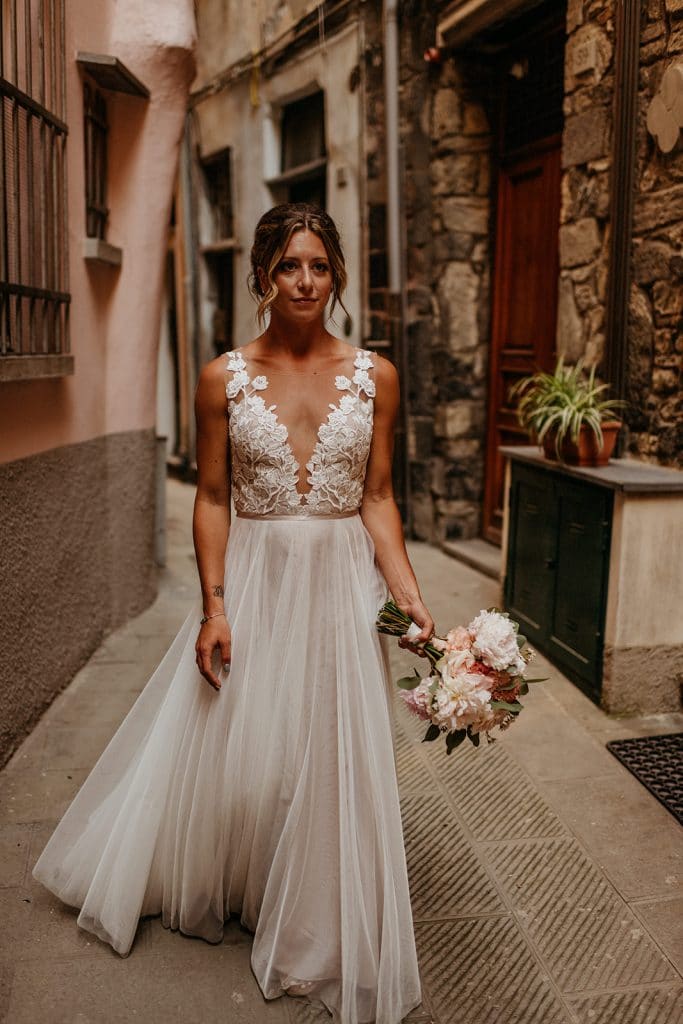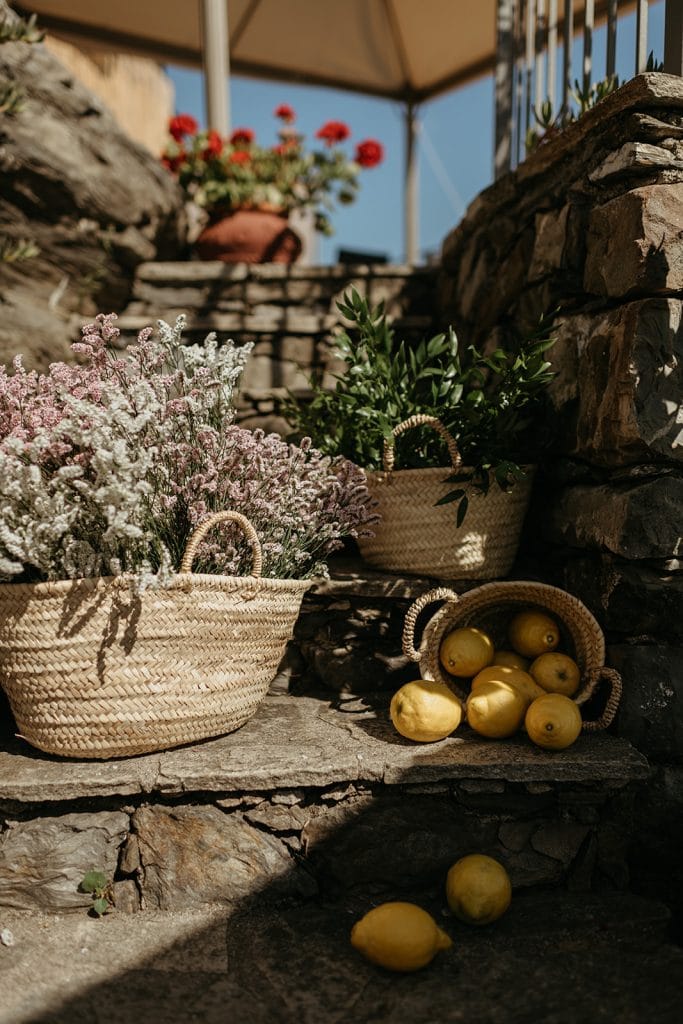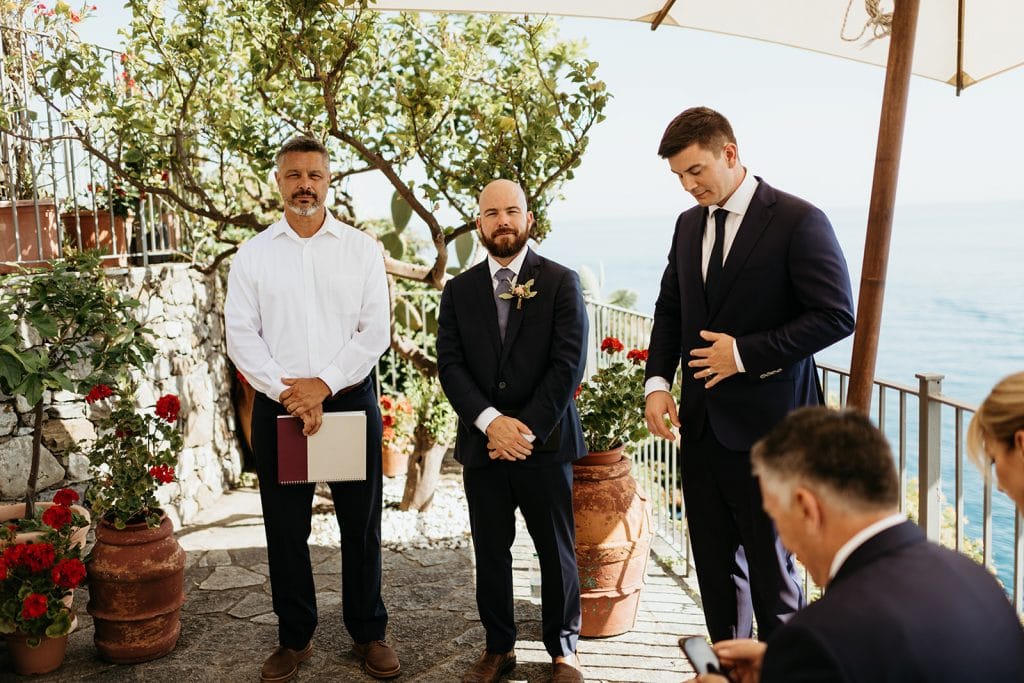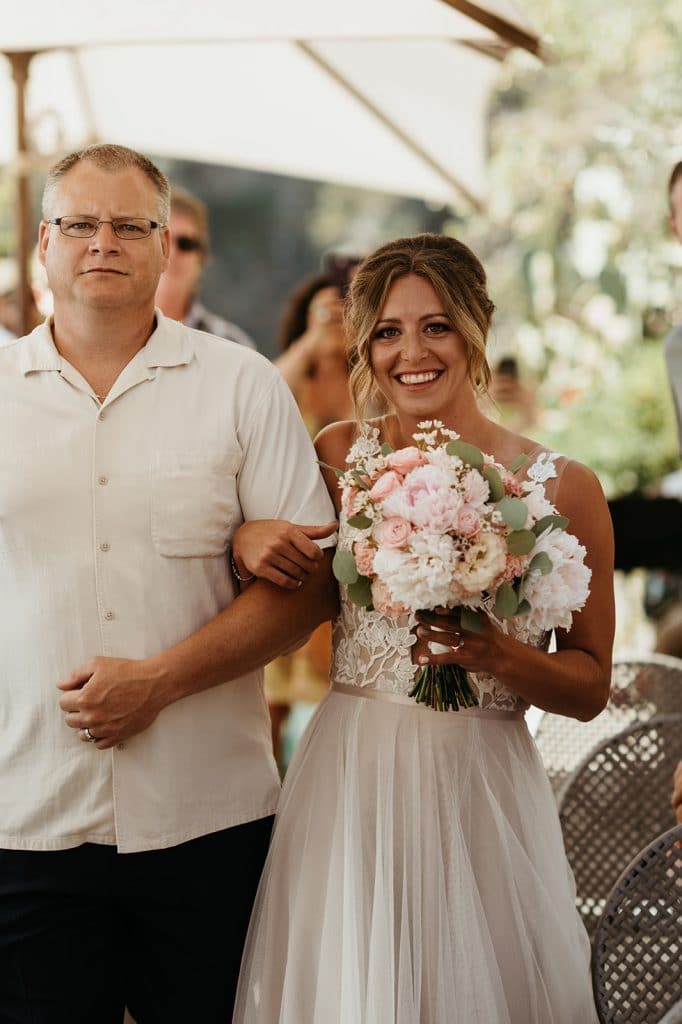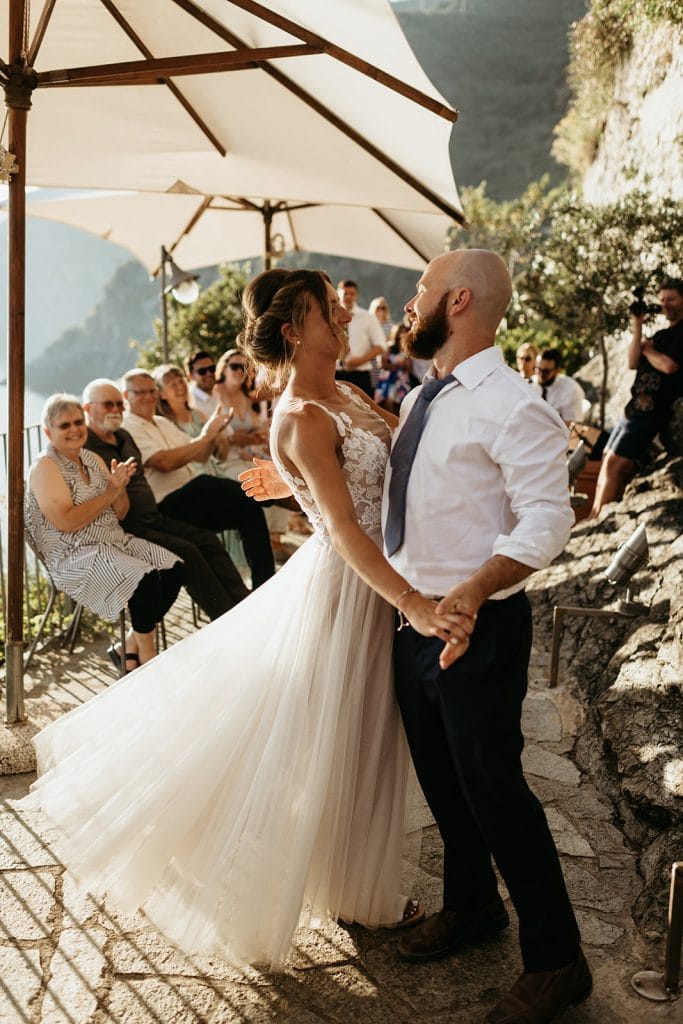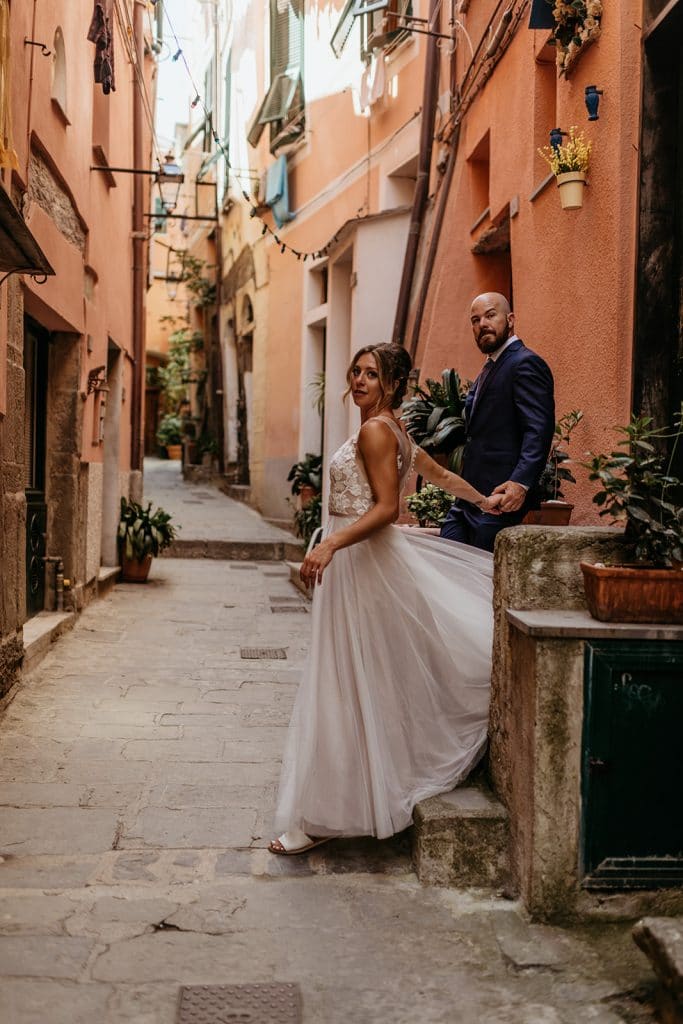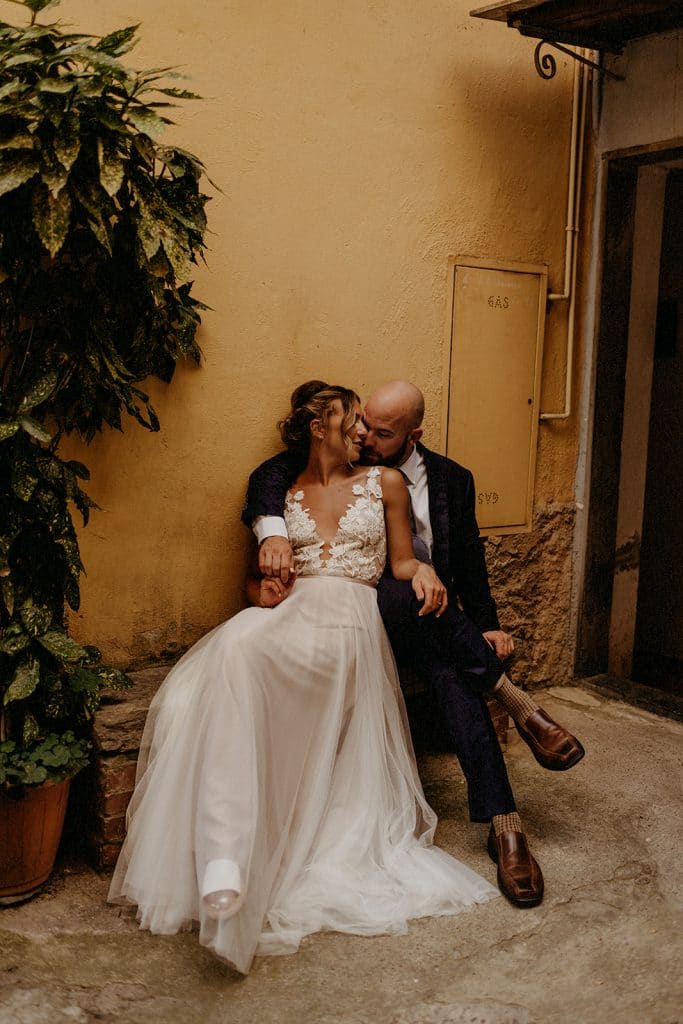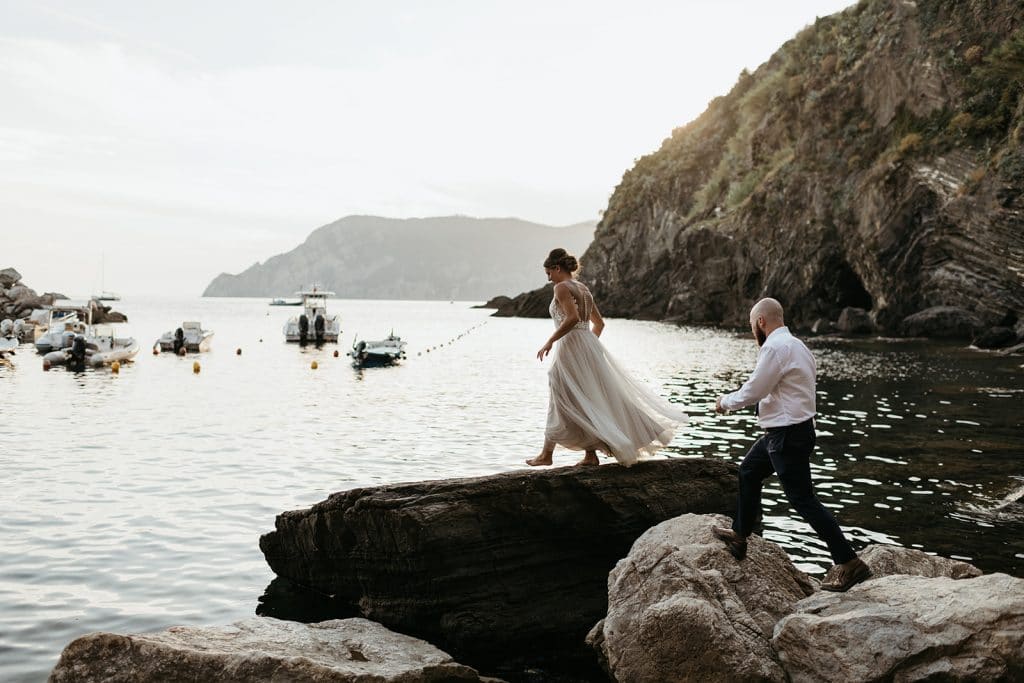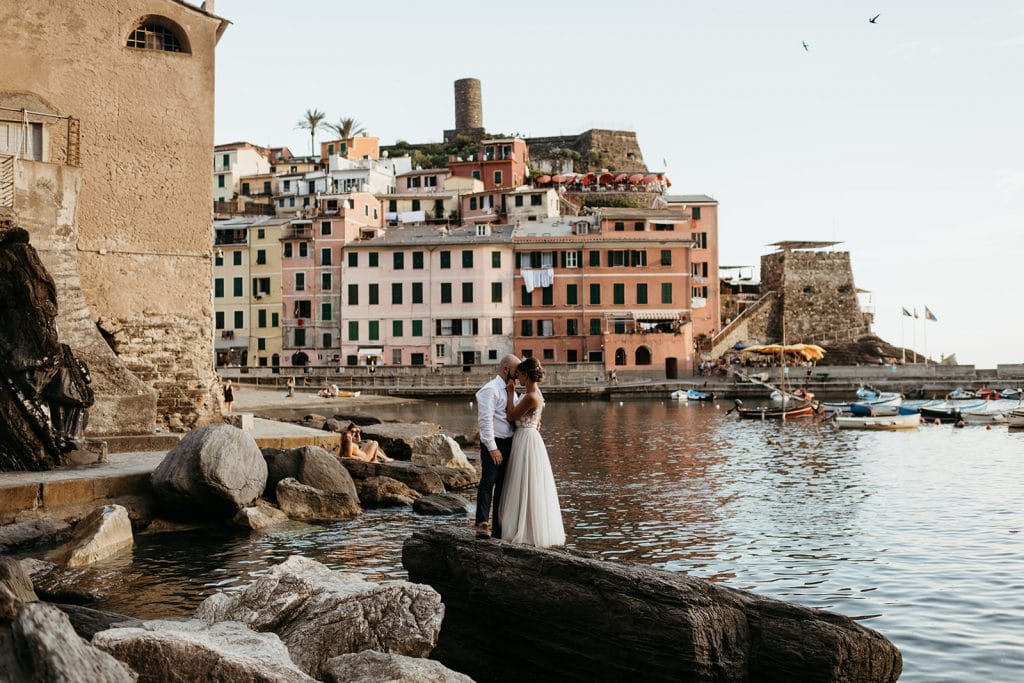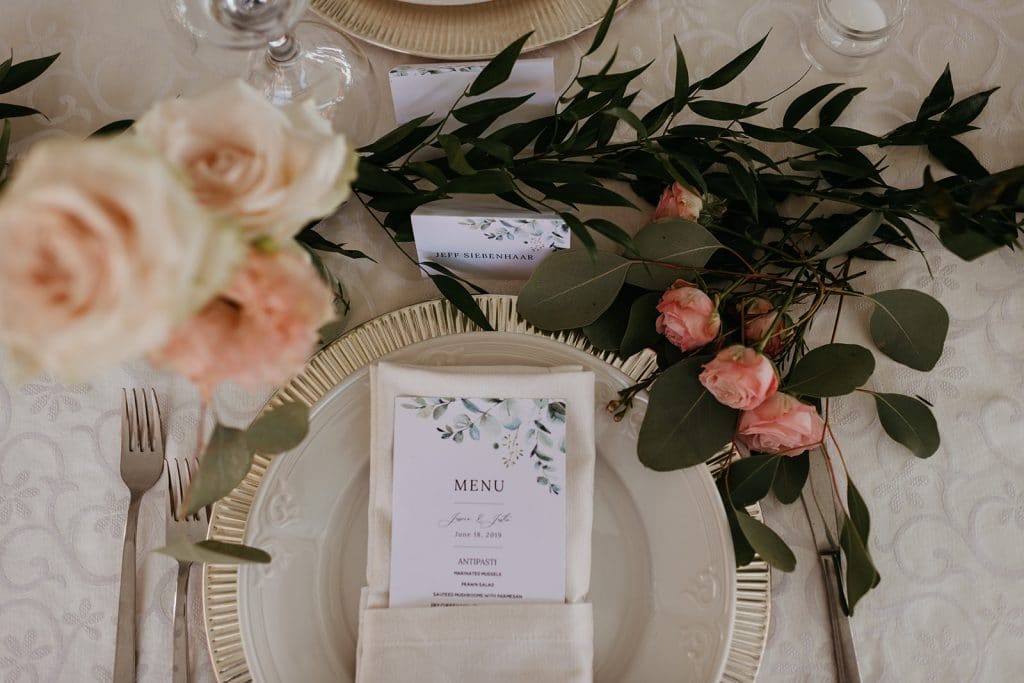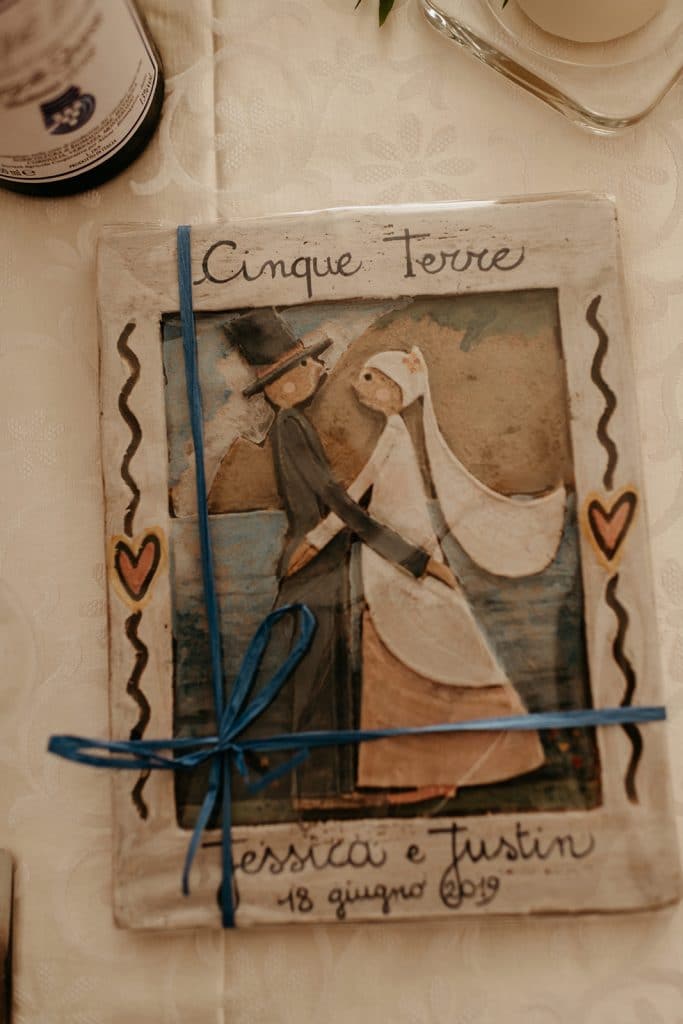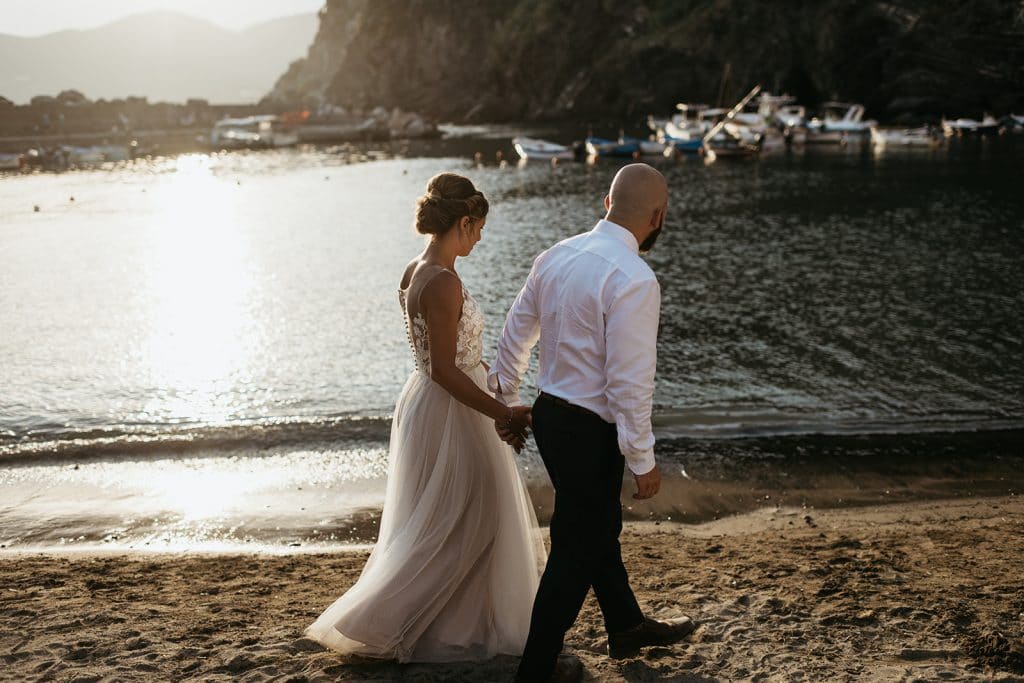 For more information on celebrating your relaxed romance wedding here in the Cinque Terre contact us.
Written by Melina Nicholson.