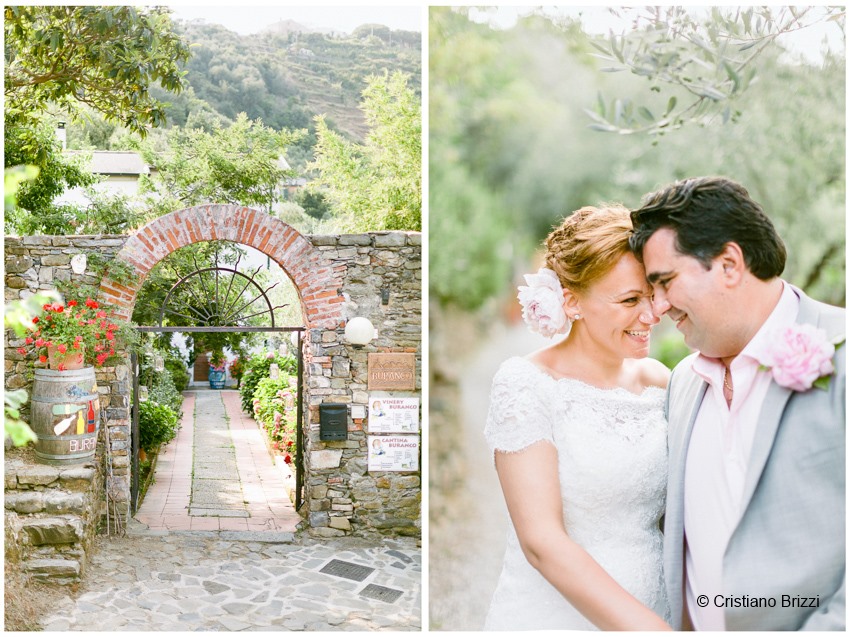 18 Sep

Paola and Sergio's Cinque Terre Wedding

Real Wedding Feature: Five Lands, Five Tips and Five and a bit Pics!

Some people think that finding love online involves two strangers meeting in cyberspace but for Londoners Paola and Sergio while they met online they were far from strangers. Not only did they have mutual friends, Sergio's godfather actually tiled Paola's family bathroom when she was just 12-years-old! With both their father's from the north of Italy and both spending family vacations in Monterosso in the Cinque Terre, it seemed that Paola and Sergio's paths were destined to cross no matter what.

Lucky for us, this beautiful, bubbly and hilariously witty couple, decided to return to the spot of their childhood family vacations in Monterosso on the Cinque Terre, where they sealed their path into married life in the Buranco Vineyard – smiling and laughing all the way!

Why a destination wedding? We chose a destination wedding as both of our fathers are Italian, we liked the idea of building new memories in a place that we hold so close to our hearts.

Why the Cinque Terre Wedding in Italy? The Cinque Terre, Monterosso in particular, was the nearest (and prettiest) beach town to where our fathers grew up.  Little did we know, we had actaully been to the same beach many times in the summer months during our holidays in Italy. I remember always saying to my sister I wanted to get married there one day!

How was the planning process? The planning, from the moment I contacted Melina, to the last dance, was executed with such precision. Melina managed to understand exactly what I wanted and more. From the barbers to the make up artists on the big day, to organising a dinner the night before the wedding so all our guests got to meet each other. There really was nothing more we could have asked for.

What was the best part of your Cinque Terre Wedding in Italy? The best part of our day (apart from actually tying the knot of course) was the intimacy of spending the day with our nearest and dearest in such a breathtaking setting (closely followed by the food!)

Top Tip for future Cinque Terre Wedding Brides and Grooms? Top tips for couples planning to marry in Cinque Terre would be not to go too crazy on decorations, the beautiful setting is the best backdrop you could wish for. We felt so relaxed on the day because everything was taken care of, we almost felt guilty!

Written by Melina Nicholson

Photos by Facibeni Fotografia.