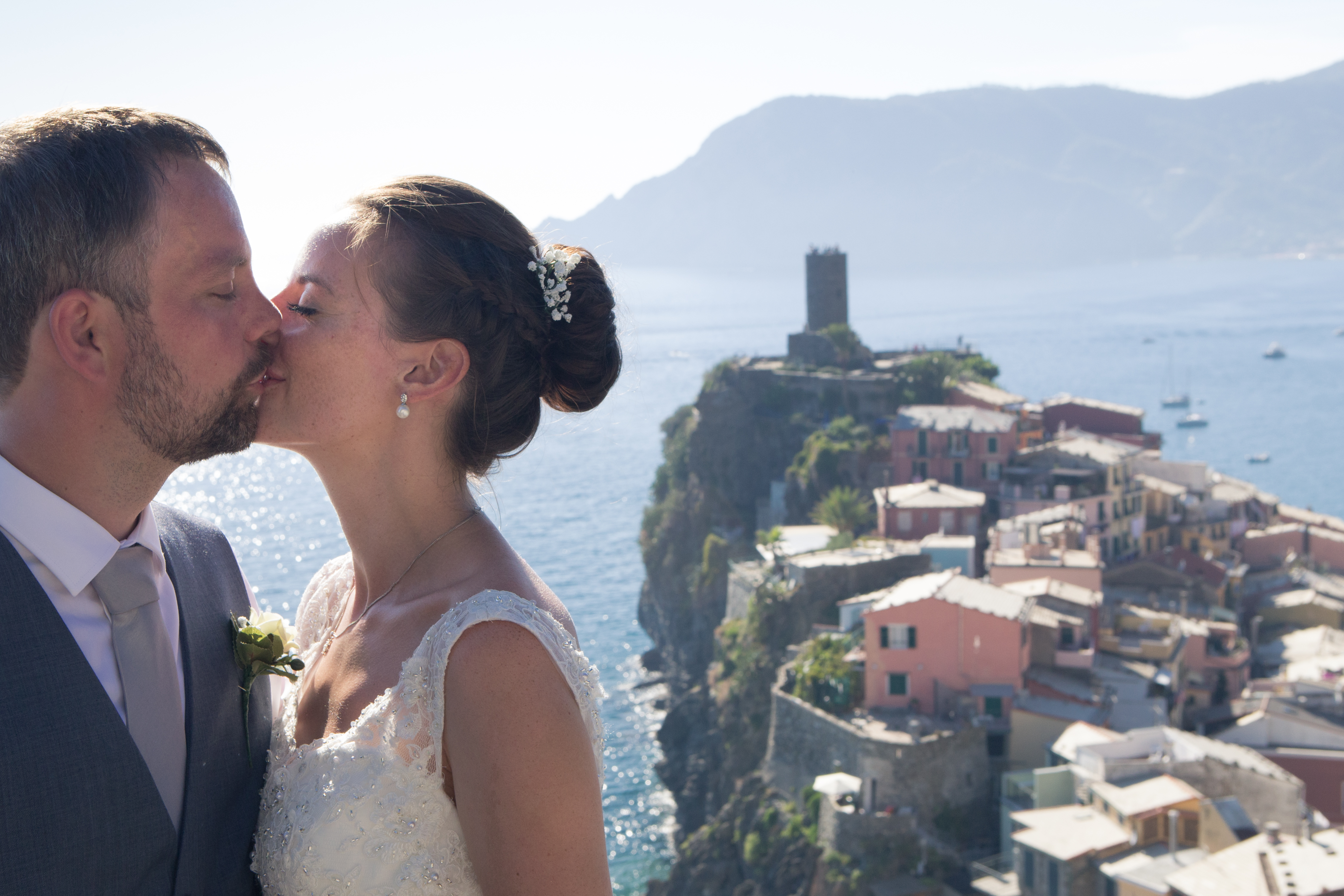 07 Oct

Outlander Wedding in the Cinque Terre – Real Wedding Feature

Because Diana Gabaldon's Outlander series makes us very giddy (our ancestors took part in the Battle of Prestonpans – yep, pretty darn swell) you can imagine how excited we were when highlanders Clair and Jamie, jumped out of the pages of the novel and into our offices looking for a destination wedding. Well, their names were Nicola and Magnus, but highlanders they were and as far as appearances, accents and passion for adventure go, they were our very own Laird and Lady of Lallybroch.

Hailing from the wee island of Shetland in Scotland, bonny Nicola and equally as bonny Magnus had a wedding day adventure all of their own. Their wedding story started in a wee village called Peebles, in Scotland, where, as the sun set, Magnus got down on one knee on a little bridge over a river and proposed. In response, Nicola did what most brides do… ran away. Fortunately, on reaching the end of the bridge she stopped and then dashed back with a resounding "YES!" before tackling Magnus to the ground.

Then it was a road trip in their newly auction won BMW, zooming through the south of France, before reaching the final destination for their big day – the wee and bonny Cinque Terre.  It was kilts, whisky and highlander dancing all round for this Outlander destination wedding here on the Italian Riviera in Italy. A wedding of a lifetime for a couple who enjoy the time of their lives, every day of their lives.

Why a destination wedding? 

We actually hadn't thought about our wedding since getting engaged as we had a busy end of year with our business, the Shetland Fudge Company, however it came to be quite a good story as to why we decided on a destination wedding. First you need to know that Magnus and I are very impulsive and live life to the full.

Magnus had picked out three cars on eBay, and he let me bid on the one I liked the most. We lost out on the first car but we won the bid on my second choice- a two seater BMW Z3. Whilst the countdown on the bid took place we discussed why we were bidding on it, since we had a wedding to plan we had to justify to ourselves why we needed this car. So, we decided there and then in a 30 second conversation we would be going on a road trip to the destination of our wedding and then road trip back home. We have always wanted to do a long road trip so this seemed the perfect idea!

We aren't the type of people who need lots of luggage and we didn't want fuss, we just knew we wanted our closest family and friends, the things that meant something to us and to be next to the sea. (It is just as well as the convertible had very little room to cram in all the bits needed for a wedding!!)

Why the Cinque Terre Wedding in Italy? 

We had looked online for many wedding destinations, when we say 'many' we mean TONNES! We thought we were never going to find somewhere that we could visualise us getting married. However, it was one night Nicola was searching the internet and instead of looking for Wedding Venues abroad or Destination weddings, she instead looked up Lonely Planet and stumbled on the beautiful scenic photos of Cinque Terre. We had never heard of the place before, but she got stuck in and read up on the area. When I came back from work she had it all ready for me to see, we knew it was the place we wanted to get married. We just knew it would be perfect.

How was the planning process? 

Not knowing if Cinque Terre provided weddings for non-residents, the first thing we did was search for 'Cinque Terre Weddings' and Melina's business was the first to pop up. We didn't need to look any further, we wanted Melina.

We emailed Melina with our enquiry and the details that we had, the date was important to us as our family had work commitments, we were limited to dates we could get married and have them attend. With no hassle and no stress Melina had arranged a skype call and the planning was straight forward. We were given all the details of every part of wedding planning and she made our wedding perfect by letting us have the wedding we wanted. No task was too big.

What was the best part of your Cinque Terre Wedding in Italy? 

Nicola: There are so many amazing parts to our wedding. I loved every single second of it. I have come up with my favourites- and this was no easy task, as it really was out of this world!
Sitting on the gozzo boat with my three beautiful bridesmaids. The feeling of excitement knowing the guests and my husband to be were up the hill in Vernazza waiting on our arrival.
Walking through the village with my husband in hand, all the well-wishers singing, clapping and dancing for us!!
Playing the fiddle in the train station waiting for our train back to Monterosso after one to many whiskys… The moment was incredible.
And finally, sitting next to my beautiful husband watching the sun set over the sea and listening to the speeches of our guests.
Magnus: I have really struggled to come up with my favourite parts as I enjoyed every element of it so much! Here goes though:
Arriving in Vernazza via the ferry and hearing the chit chat of other locals/tourist wondering where the bride was and wanting to wait and see her.
After the ceremony, walking down to the village and having everyone cheer for us, it made me feel like royalty, I was proud as punch!
The Benediga – need I say more! It was so much fun!
The food and drink we had in the evening surrounded with family and friends in the most perfect setting I could have imagined.
Top Tip for future Cinque Terre Wedding Brides and Grooms?
Nicola: Enjoy every part of it. Listen to Melina as she knows you better than you know yourself. We had the best wedding because of Melina, one that I will never forget or stop laughing when remembering it.
Magnus: As Nicola says, listen to Melina, she made our day more perfect than we could have imagined! Every detail was carefully thought out and planned by her, and executed to perfection!
Written by Melina Nicholson
Photos by Miriam Rossignoli.