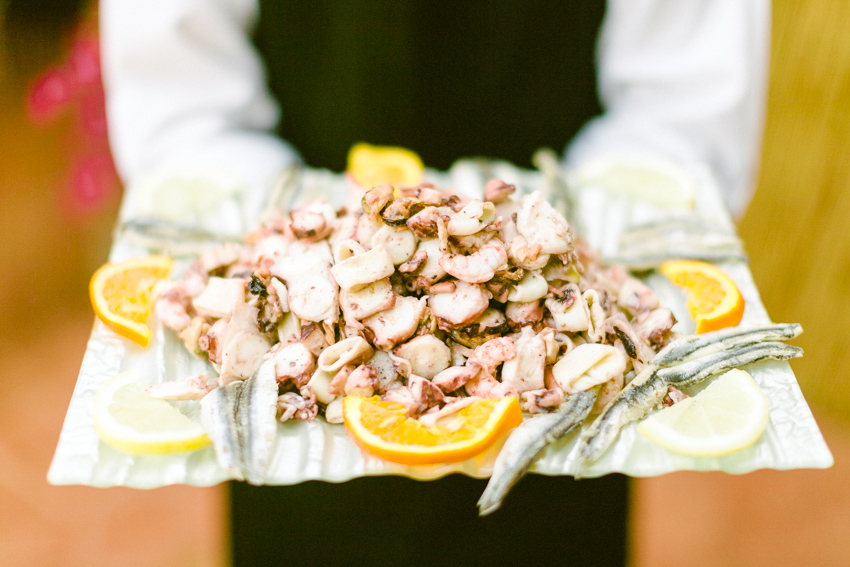 25 Dec

Cinque Terre Italian Wedding Food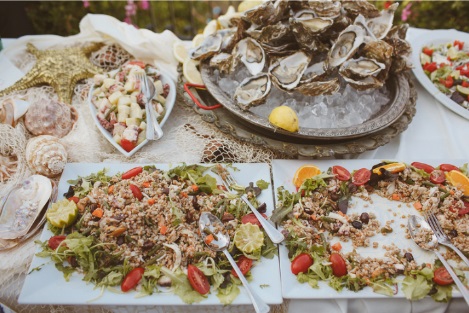 Brace your bellies, Italian food lovers, as we introduce you to typical Cinque Terre Italian Wedding Food – the dishes most likely to have you and your guests kissing your fingertips and singing buonissimo!  
So quick backflip into the landscape of food in Italy – it's very much a regional thing. So while supermarkets abroad may have all types of Italian foods gathered together neatly into one aisle, in Italy, for the most part, you need to go from state to state to find dishes. In fact, many Italians do just that, basing their holiday destinations on where they can try a particular dish.
Don't believe us: try finding proper focaccia in Milano, or an arancini ball in Florence. Or better still a Fiorentina steak in Naples. Not going to happen.
With some of the best food in the world, Italy's regions are proud of their heritage dishes, so when in Rome… do as the Italians do and be sure to go local when choosing your Italian wedding food.
Lucky for Cinque Terre Wedding couples this means it's all about Ligurian cuisine, so get ready to drool!
Pesto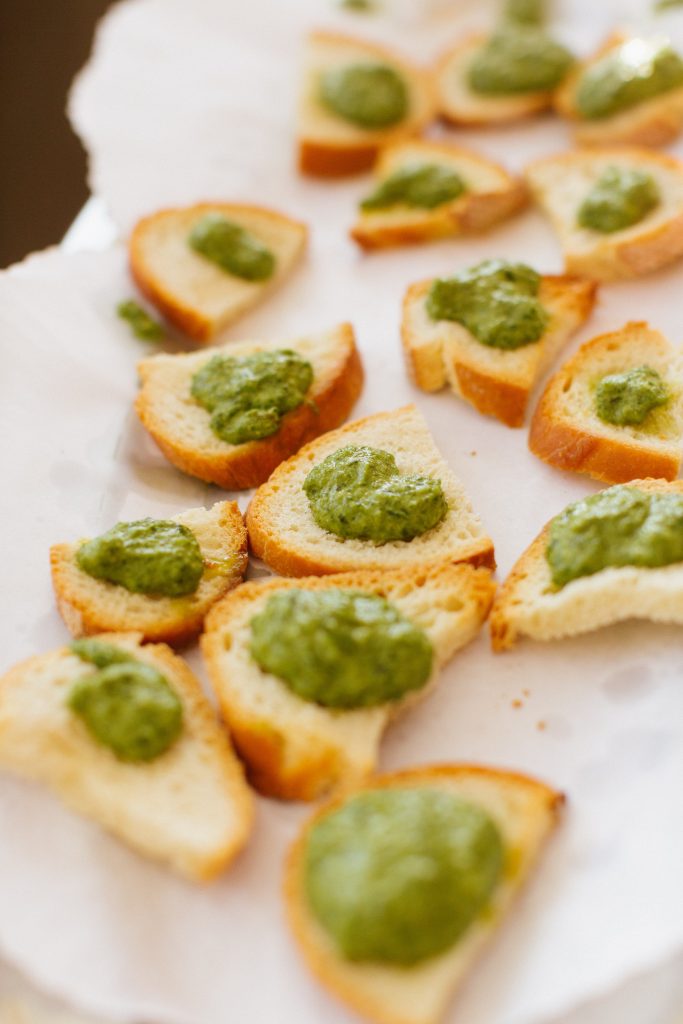 We once spoke to a Genovese (the founders of the pesto) who told us that true pesto derives from an ancient Roman garlic sauce and that the Genovese added the local basil to it in the 1800s. And how happy we are they did. Throw in a bit of parmesan cheese, olive oil and pine nuts, then pestare (the action to pound and crush with a mortar and pestle, and also the root of the dish's name), it's done.
Most Ligurians will say that the key to pesto is the Ligurian basil, so arguably you've never tried true pesto until you eat it here. Others say the quantities of the ingredients are also key.
With our local chefs using pesto recipes that have been passed down from generations, you can be the judge of whether it's the best pesto you've ever tasted. We bet it will be!
Trofie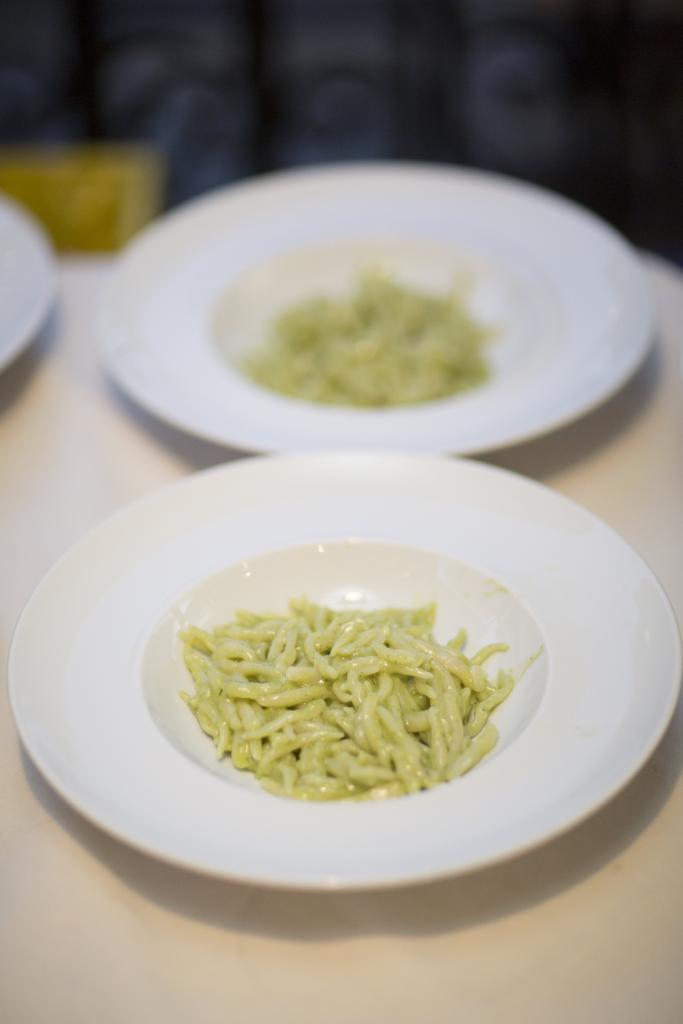 If you want to double your Ligurian dining experience there is no better way to do it than with Trofie Pesto. So regional pasta sauce: pesto, with regional pasta: Trofie. From just up the road, in the Riviera di Levante, hails the Trofie pasta. Thin, short and twisty, the Trofie clings onto the sauce with an almighty hold to create bite size pieces that will make you want more!
Focaccia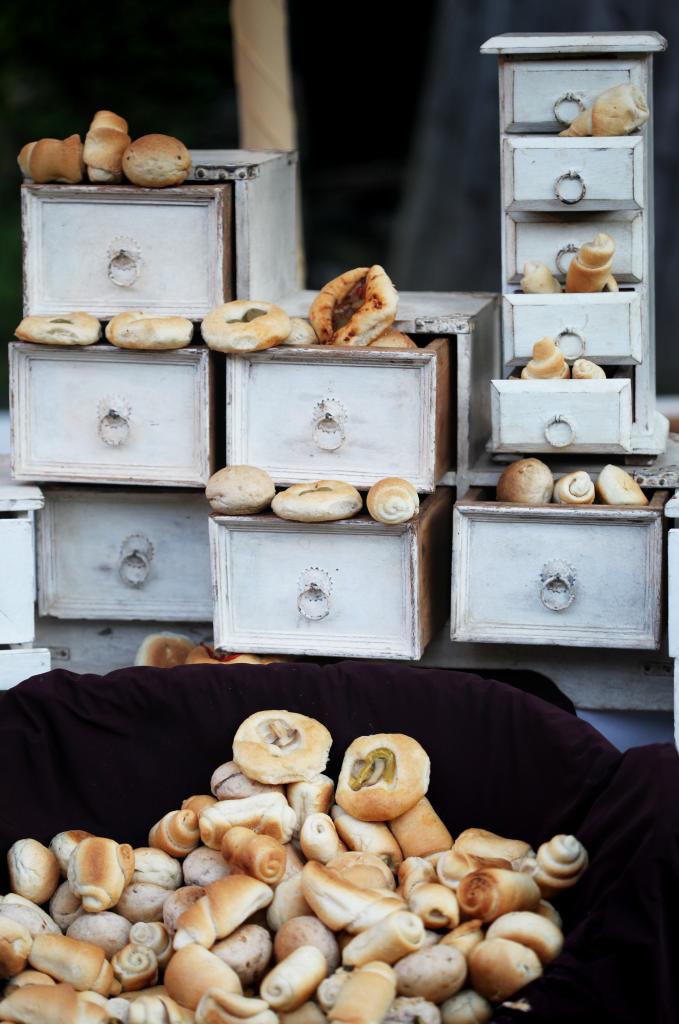 These days any bread that is thick and fluffy seems to call itself a Focaccia, but when you come to Liguria, the home of the Focaccia, you will recall past imposters and rejoice in finally meeting the one and only true Focaccia. True Focaccia is a bit oily, a bit salty, a bit elastic, a bit light and a bit spongy. It's one of life's greatest pleasures to bite into a warm freshly made piece of Focaccia, with saltiness on your lips and oil running down your fingertips – pure bliss!   
In the Cinque Terre the locals have plain Focaccia for breakfast, lunch and dinner. And Focacciarias here also make Focaccia varieties, with tomato and mozzarella, pesto and olives, to name just a few. So whatever time of day, whatever flavour you like, know that when creating a list of Italian wedding food for your big day there is always a true Focaccia waiting here for you.
Anchovies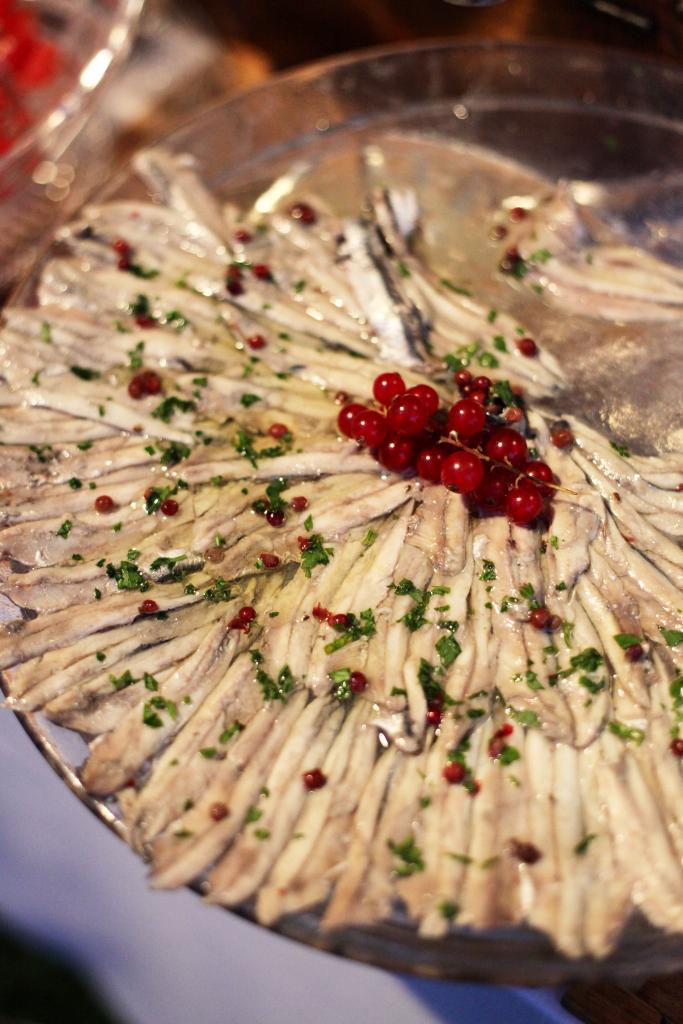 In the Cinque Terre we are serious about our anchovies. So much so we celebrate them two times a year with the Sagra Dell'acciuga Fritta (Fried Anchovy Party) and the Sagra Dell'acciuga Salata (Salted Anchovy Party). Told you we are serious.
So key anchovy lesson: forget about their salty, fishy foreign cousins that are usually found crammed together into cans or sprinkled out on to Pizza Napoli. Or if you like these types of anchovies don't forget about them at all but imagine them as the teaser as to what's to come.
In the Cinque Terre anchovies are fresh, fished right out of the Mediterranean Sea in front of the villages. In fact, at night the dark sea is full of little looming lights as the fishing boats carryout the Lampara, the traditional method of fishing for anchovies with lights here.
So you'll find the anchovies here taste a little different from what you may be used to and a lot more delicious. No matter your tastes, there's bound to be an anchovy dish for you as they are prepared in many different ways. Kids of the Cinque Terre eat the fried variety like hot chips. From summertime on, most home kitchens in the Cinque Terre will have a tub of anchovies sitting in salt to be eaten later in the year in their salted form with olives and olive oil or bread and a nice smudge of butter. And in Monterosso, the village famous for its lemons, you'll find Acciughe al Limone, raw anchovies that basically self-transform into tasty wonders with just a sprinkle of salt and lemon juice.
These three anchovy dishes are regular stars in the aperitivo or antipasti of Italian wedding food served in the Cinque Terre.
Known in the region also as Alici, don't bypass the opportunity to try pasta with alice, taggiasche olives and capers, a local favourite with anchovie lovers. 
Pansotti in Salsa di Noci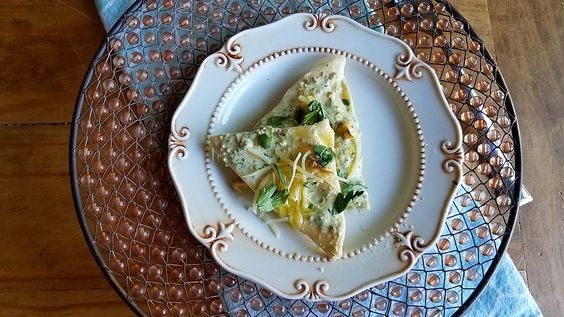 A type of ravioli, Pansotti is different to its meat based relatives as it comes from the steep cliffs of Liguria, unsuitable grounds for farming cattle. So the Ligurians make their Pansotti with vegetable fillings, instead of meat, often with herbs and silver beets. Keeping to the plants that grow in the area the Pansotti is most often paired with Salsa di Noci, a walnut-based sauce. The mortar and pestle are used again for this seductive sauce of walnuts, garlic, salt and milk soaked bread. Please sir, can I have some more!  
Farinata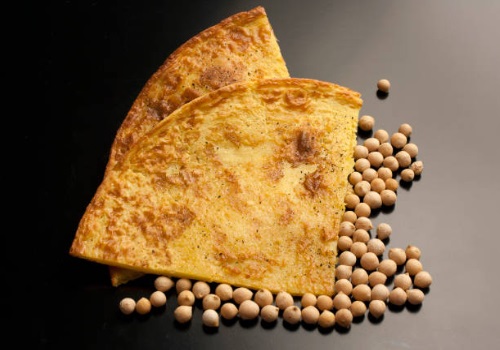 Celiacs rejoice, here is a bread type made from chickpeas that is naturally gluten free. Eaten by the ancient Romans when they inhabited the Ligurian coast, you can literally do as the Romans did. Smother it in some soft stracchino cheese and you'll be happy to turn back the clock and live as a Roman forever, toga and all.
Mediterranean Fish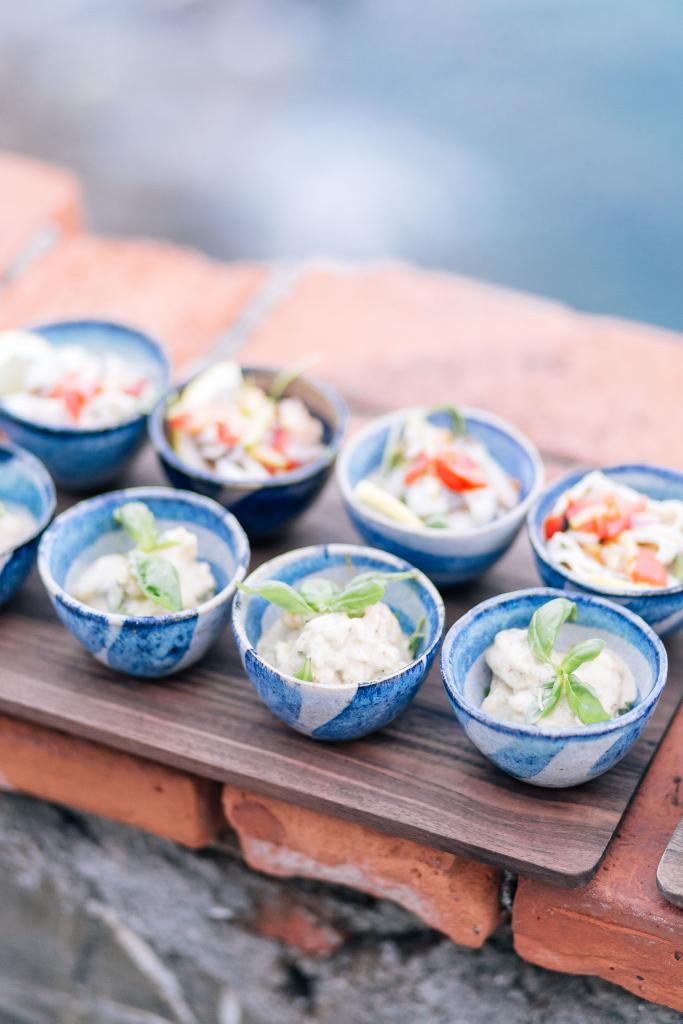 The Cinque Terre are medieval fishing villages. Each day residents awake, much like their ancestors hundreds of years before them, to find what the local fishermen have brought in. Traditional menus will be prepared based on the catch of the day and people will travel far and wide, nationally and internationally, for a taste. You know it's been a good catch if the local Branzino (Sea Bass), Orata (Sea Bream), Triglia (Red Mullet), Polpo (Octopus) or Tonno (Tuna) are in the mix.
In the Cinque Terre, one of the most popular ways to prepare fish like Branzino or Orata is baking it with local taggiasche olives, potatoes and tomatoes. The tuna instead, is often cut into steaks, seared and served with caramelized onions, or served raw, a la tuna carpaccio.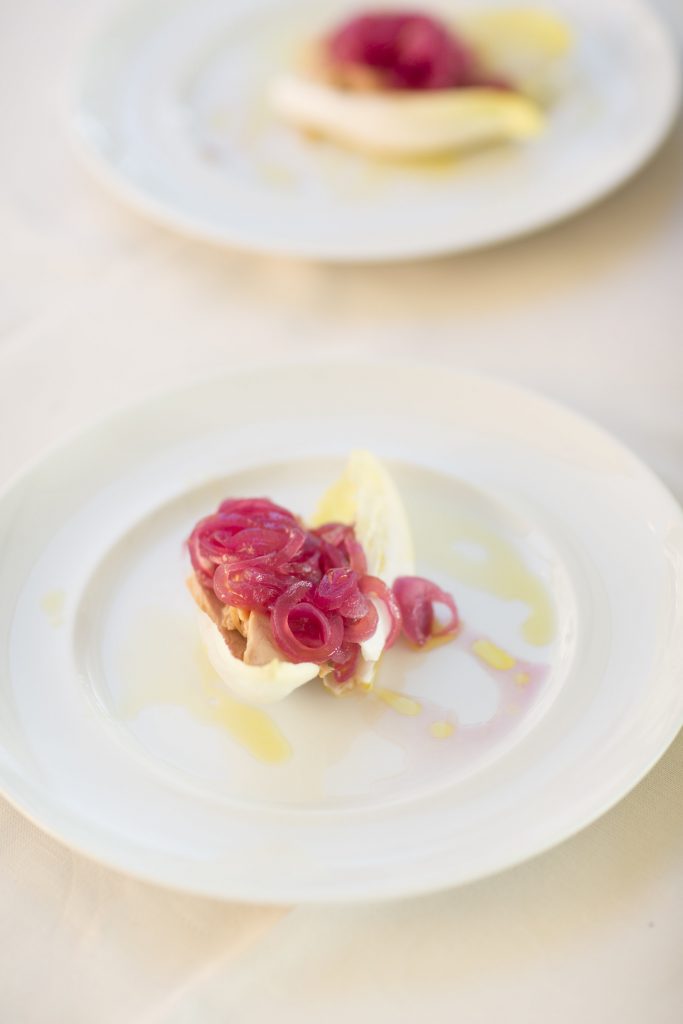 And don't miss the antipasto misto di mare, a taste of a wide variety of local Cinque Terre seafood favourites that will make your jaw drop on first sight and quickly pop back up again on first bite!
And we'd even go as far to say that you haven't dined in the Cinque Terre until you have tried the Fritto Misto. Whether finger food or a feasty fry, the Fritto Misto, which usually includes fried calamari, anchovies, triglia, prawns and pesciolini (tinsy winsy tiny fish), is your passport to true and simple Cinque Terre dining. Squeeze some fresh local lemon juice on top and you'll never want to leave.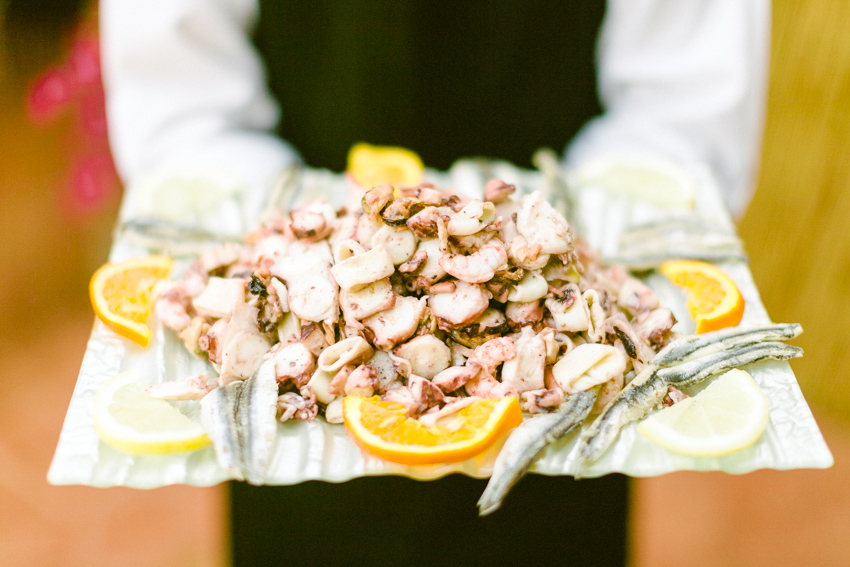 To find out more about what your Italian wedding food in the Cinque Terre could look like, contact us for a free quote and sample menu here.  
Written by Melina Nicholson.